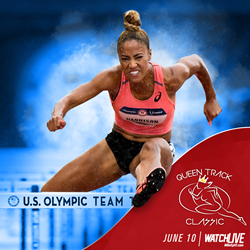 I believe that the Queen Track Classic has the potential to spark a movement for young women and girls everywhere; one that reminds us how important we are in EVERY field.
Richmond, VA (PRWEB) June 07, 2017
US Olympic track and field hurdler and Richmond, Virginia native, Queen Harrison, presents the inaugural Queen Track Classic, an elite all-girls high school track and field meet at Sports Backers Stadium in Richmond, VA on June 10, 2017.
A first of its kind, the Queen Track Classic selects the top high school female track and field athletes, statewide, to compete in each category. Founder and Olympic Athlete, Queen Harrison, launched the competition to bridge the support, resources and insight gap for young women athletes from high school through to their college and professional careers. The day's events are a manifestation of her passions and beliefs in the positive impact sports can have on the physical, social and mental health of individuals - specifically young women.
In addition Harrison and Asics have partnered to award five (5) high school seniors with $1000 scholarships in the #iAmTrackQueen Scholarship Contest. Applicants were required to be current Virginia state high school students; be an active member of their school track team or an AAU team for two (2) or more years; have a minimum 3.0 GPA; participate in at least one additional extracurricular activity and post a 60 second video to Instagram highlighting why they are a "Track Queen". Through the meet and scholarship awards, Harrison aims to cultivate elite track stars, provide an opportunity for them to gain exposure and open doors that may catapult them into successful futures at top ranking universities.
"I believe that the Queen Track Classic has the potential to spark a movement for young women and girls everywhere; one that reminds us how important we are in EVERY field. For me, the Queen Track Classic is much more than just a track meet for girls it's a platform of acknowledgement and a voice for women everywhere that says, "we see you". We see the work you're putting in every day and it's not only worth recognizing, it's worth personally celebrating! I know the hard work that goes into training to be your best, so being able to provide a space where their hard work and talent can be displayed is truly an honor."
The Queen Track Classic will be held on Saturday, June 6th at Sports Backers Stadium, located at 100 Avenue of Champions Suite 300, Richmond, VA, from 10am-5pm. The family friendly event will open with a Youth Fun Run and competitive field and running events will begin at 12pm. For tickets and to learn more about the inaugural Queen Track Classic, visit queentrackclassic.com. General admission tickets are $20. Sponsors include Asics and MileSplit (a FloSports Co.).
Stay connected with the Queen Track Classic at @QueenTrackClassic on Facebook, on Twitter @QueenTrkClassic and on Instagram @QueenTrackClassic. Follow the online conversation on the track with the hashtag #QueenTrackClassic. For images, bios and other Queen Track Classic assets, please visit bit.ly/QTCRichmond2017.
---
ABOUT QUEEN HARRISON
At the age of 19, Queen Harrison became Virginia Tech's first female Olympian and the youngest athlete on the 2008 USA Olympic track team in Beijing, China. As a freshman at Virginia Tech, she placed 3rd in the 400-meter hurdles at the NCAA Championships and burst onto the international scene when she won the Pan American Junior Championships in the 400-meter hurdles and took silver in the 100-meter hurdles. In her final year as a Virginia Tech athlete, Queen took gold medals in the 60-meter hurdles, 100-meter hurdles and 400-meter hurdles at the NCAA Championships, becoming the first female athlete in NCAA history to win all three events at the national meets. As a result of her efforts that season, Queen was awarded with the highest honor for a collegiate track and field athlete, the Bowerman Award.
In 2012, Queen finished the season ranking No. 7 in the world and during the 2013 season, she went on to win the Drake Relays, followed by a first place win at the Monaco Diamond League, beating current Olympic Champ, Sally Pearson. At the USA Outdoor Championships Queen finished with a personal best of 12.43 posting the 2nd fastest time in the world for the season and clinching her spot on the USA World Team. Queen was also named #21 in Bleacher Report's 2013 '101 Most Beautiful People in Sports.' By the end of the World Championships 2013 season, Queen was ranked 5th in the world in the 100mH. In 2014, Queen finished second at the USA Championships in the 100mH by only .02 seconds and finished the 2014 season, ranking #2 in the world. After an impressive win at the Pan American Games in 2015, and finishing 2016 ranked in the top ten, Queen is working to leave her mark on the hurdles in the 2017 season.