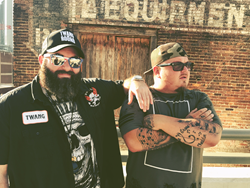 NASHVILLE, Tenn. (PRWEB) January 30, 2018
Kentucky based country/AmeriFlow duo Twang and Round have partnered with Kentucky Mist Moonshine for the launch of their new video "Lovin' Liquor." The video and song feature Jon Conner (I4NI) and can be seen online at https://youtu.be/hvNvRsaSVgQ. The video takes place inside the Kentucky Mist Moonshine distillery and is directed by Jon Conner and Dammitboy Entertainment. The video shows the process of creating flavored spirits using whole fruit which renders the most genuine taste. Hard working Americans labor daily to make this procedure happen. The video depicts the art of making moonshine, which is enjoying a resurgence in recent years. Moonshine roots are part of American culture dating back to the prohibition era.
Twang and Round recently launched their brand of 80-proof "Kentucky Mist Moonshine." The ingredients infuse cranberries, apples, and a secret ingredient. The shine is manufactured and distributed by Kentucky Mist Moonshine, a local craft distillery located in the Appalachian Mountains with a deep heritage of spirits in the Kentucky region. The partnership allows Twang and Round hands-on access to a local company that takes pride in creating high-quality moonshine. This collaboration makes it easy for the duo to stand behind the product. Given the more costly and authentic ways in which Kentucky Mist approaches the distilling process and the true authenticity of Twang and Round's music, it is a natural partnership was consummated through trust and respect for both crafts in keeping with true American tradition.
Twang and Round recently signed a long-term deal with Thirteen Skulls Entertainment for the release of their upcoming album (Spring 2018). Thirteen Skulls Entertainment is more than just music, it's a lifestyle for fans who love to have fun, share a couple of drinks, and roll through the heartland with the windows rolled down. AmeriFlow music combines intense rhymes, backwoods bravado, a little moonshine and American pride. The mixture comes together in the melting pot that has been coined the genre of 'AmeriFlow!'.
About Thirteen Skulls Entertainment:
Thirteen Skulls Entertainment was founded by music industry veteran Ron A. Spaulding and Major League Baseball Hall of Famer Frank Thomas and is in partnership with AMPED Distribution/Alliance Entertainment. Thirteen Skulls Entertainment is focused on the "AmeriFlow" genre, which is a musical hybrid of country, rap, and rock. The label provides a full range of services in a fast-changing music business and offers artists a home with the necessary tools to nurture and incubate creativity without constraints. Focused on creating AUTHENTIC music, Thirteen Skulls Entertainment's legacy will be defined by creativity and uncompromising commitment to artistry.
For more information please, visit http://www.thirteenskullsent.com and http://www.twangandround.net or for information on Kentucky Mist Moonshine please visit http://www.kentuckymist.com