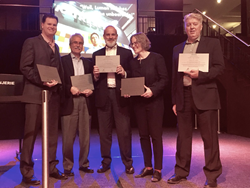 NEW YORK (PRWEB) February 01, 2018
Trespa North America, a division of Netherlands-based architectural cladding manufacturer Trespa International, B.V., has been lauded as the company's "Country of the Year" for 2017. The North America territory, which covers the U.S., Canada and Mexico, came out on top from among all sales offices worldwide, which together serve more than 60 countries. The award celebrates a country or sales region that excels in growth and innovation.
"I'm very proud of the entire Trespa North America team, and am honored to be associated with such a fine group of people who achieved this prestigious award," said Michael Provenza, commercial vice president of Trespa North America. "Winning Country of the Year showcases the team's hard work and commitment to excellence."
Trespa North America timeline

1997 – Trespa North America, Ltd., created as the first non-European branch of Trespa International
2008 – Trespa Design Center opens in New York City
2017 – Trespa North America relocates headquarters to New York's famed Empire State Building
For more information on Trespa products visit http://www.trespa.com or call (800) 487-3772.
About Trespa
Trespa is a leading innovator in the field of architectural materials, recognized internationally as a premier developer of high quality panels for exterior cladding and siding, decorative façades, and scientific surface solutions. Since its founding in 1960, Trespa has worked closely with architects, designers, installers, distributors, raw material suppliers and end users globally. Trespa's focus is on product development, combining quality-manufacturing technologies with intelligent solutions for architectural and scientific surface applications. With unique insights into key market challenges, trends and demands, Trespa passionately delivers innovative, aesthetically pleasing and high performance solutions for a wide range of needs. http://www.trespa.com