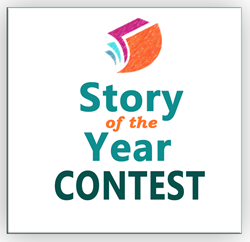 The contest is seeking submissions of teen/young adult books that are "easy to read, and hard to put down."
Philadelphia, PA (PRWEB) April 03, 2018
Story Shares, a nonprofit organization devoted to inspiring reading practice and improving literacy skills, has launched its annual Story of the Year writing contest. The call-for-entries began April 2, 2018 and runs until July 27, 2018. The contest is seeking submissions of teen/young adult books that are "easy to read, and hard to put down."
Like most writing contests, it offers cash prizes along with publication in both digital and print form. Awards range from $2,000 to $5,000 across three categories.
However, there are also several ways in which the Story of the Year contest is not an average writing competition.
First, in addition to one finalist per each of the three writing categories, all authors who create a compelling book based on the unique Story Shares guidelines will have their work published in the Story Shares library, where a huge network of readers are eagerly awaiting fresh content to consume.
Second, there is no fee required in order to submit a story, and no limit to the number of stories an individual can submit.
Third, and most importantly, this contest offers an opportunity for writers to share their work with a wide, established network of readers — to use their words to make a difference. The Story Shares reader audience is comprised of individuals in middle school, high school, and above who struggle with literacy skills. By combining culturally relevant and interesting content with approachable language and formatting, writers can join in the Story Shares mission to create books that will turn hesitant, struggling, and disengaged readers into lifelong, fluid ones.
"Our writers and the stories they submit have an enormous impact. Tens of millions of teens and young adults lack the literacy skills needed to read the books written for their age and interests," says Louise Baigelman, founder and executive director of Story Shares. "That's why we've created stories that meet them at their individual intersections of interest and ability. Stories that they can read, and want to read. Each book reaches thousands upon thousands of students, improving their abilities to read and write while preparing them for greater academic and professional success."
According to the National Center for Education Statistics, as many as 90 million teens and adults in America alone lack crucial literacy skills, and they don't have the tools they need to change that. Across the globe, that number grows to over 750 million.
Given the daily importance of reading in all aspects of life, lacking this crucial skill negatively impacts everything from academic performance to everyday communication. It also creates a cycle that is difficult to break. A lack of literacy skills makes it nearly impossible for adults to stay informed, to participate fully in society, to continue to learn, and to raise their children as readers. That's what Story Shares is here to change.
"Through our annual writing contest, we provide writers with the tools, guidance, and incentives to join in expanding this collection," Baigelman explains. "The highest quality books are published in both digital and print form, and distributed through our e-reader website, Amazon bookstore, and our many great education partners. We are incredibly proud of the 400+ stories published so far (from thousands of submissions) and are eager to continue building out the new shelves for our readers. There are so many who need this type of story, and our writers play a key role, making a truly meaningful difference for this under-served group."
Story Shares works to empower and inspire struggling readers of all kinds, including English language learners, students with learning disabilities such as dyslexia, and students from low-income communities who have fallen behind in reading. The organization has been recognized by The Library of Congress, Forbes, the International Literacy Association, and Teach for America for its innovative approach and impact in the field. Their work is a testament to the belief that, "everyone is a reader, some just haven't found the right book yet."
More information about the "Story of the Year" writing contest including contest guidelines, categories, submission instructions, and official contest rules is available at http://www.storysharescontest.org.
--------------------------------------------------------------------------------------------------------------------------
ABOUT STORY SHARES
Story Shares is a nonprofit focused on supporting the millions of teens and adults who struggle with reading by creating a new shelf in the library specifically for them. The growing collection features content that is compelling and culturally relevant for teens and adults, yet still readable at a range of lower reading levels. Story Shares generates content by engaging deeply with writers, bringing together a community to create this new kind of book. With more intriguing and approachable stories to choose from, the teens and adults who have fallen behind are improving their skills and beginning to discover the joy of reading. For more information, visit storysharescontest.org.