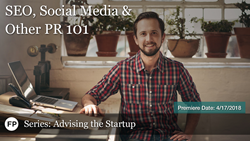 "Start-ups take heed: PR is only one part of an overall sales and marketing plan."
CHICAGO (PRWEB) April 13, 2018
Most startups are not destined to become billion dollar unicorns. Most, in fact, will fail and most of those that survive will never be more than small businesses. Whether and to what extent a startup will be successful depends on many factors. One set of factors is the foundational pillars on which the company is built, and includes things such as the company's capital structure, financial controls, human capital, market niche, and marketing functions. The Financial Poise ADVISING THE START-UP 2018 series explores each of these topics, giving startups and their advisors useful tools and insight into how they can build a foundation for success.
The fourth and final episode of the ADVISING THE START-UP 2018 webinar series is SEO/Social Media & Other PR 101, airing on April 17th at 11AM CST (REGISTER HERE), and features Moderator Jack O'Connor of Sugar Felsenthal Grais & Helsinger LLP. Mr. O'Connor is joined by Howard Kline of The Law Office of Howard F. Kline, Amanda Roszkowski of Rock n' Roll Social, and Bill Schick of Mesh Interactive Agency.
How does a young company create buzz, build its brand, target customers, and convert some of them to actual sales? Many startups seek to leverage social media and SEO (search engine optimization) as part of their PR strategy. But PR is only one part of an overall sales and marketing plan, the development and execution of which requires deep understanding of the company's business and its target market. This webinar provides basic guidance and practical advice about these topics, regardless of the startup's industry, with an overlay of some legal principles and pitfalls to avoid.
All four episodes of the Financial Poise ADVISING THE START-UP webinar seies premiere live through West LegalEdCenter and then are made available on-demand.
As with every Financial Poise Webinar, each episode is delivered in Plain English understandable to investors, business owners, and executives without much background in these areas, yet is also valuable to attorneys, accountants, and other seasoned professionals. And, as with every Financial Poise Webinar, each episode brings you into engaging, sometimes humorous, conversations designed to entertain as it teaches. Each episode in the series is designed to be viewed independently of the other episodes so that participants will enhance their knowledge of this area whether they attend one, some, or all episodes.
About Financial Poise™
Financial Poise™ has one mission: to provide reliable plain English business, financial and legal education to investors, private business owners and executives, and their respective trusted advisors. Financial Poise™ content is created by seasoned, respected experts who are invited to join our Faculty only after being recommended by current Faculty Members. Our editorial staff then works to make sure that all content is easily digestible. Financial Poise™ is a meritocracy; nobody can "buy" her way onto the Financial Poise Faculty.™ Start learning today at https://www.financialpoise.com/