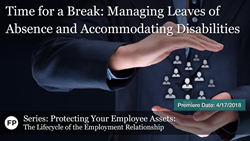 Do not despair - this webinar highlights provides tips and pointers to help employers navigate issues involving employees who are unable to work for health-related reasons.
Chicago, Illinois (PRWEB) April 13, 2018
If you have employees or advise companies with employees, this webinar series is for you! No employer—whether large, medium or small—is immune from the reach of federal, state and/or local employment laws and regulations. Now, more than ever, employers should consider taking a proactive approach to auditing their employment practices and policies so that they can better respond when issues arise. This Financial Poise PROTECTING YOUR EMPLOYEE ASSETS: THE LIFE CYCLE OF THE EMPLOYMENT RELATIONSHIP webinar series approaches the employer-employee relationship from beginning to end, with programs covering the most important steps along the way, including hiring and onboarding, policy and procedure development and training, wage and hour compliance, accommodating disabled employees, conducting investigations and considerations associated with ending the relationship.
The fourth episode of the series, Time for a Break: Managing Leaves of Absence and Accommodating Disabilities, airs on April 17th at 3:00 PM CST (Register Here) and features Moderator Aaron Gelb of Conn Maciel Carey LLP. Mr. Gelb is joined by Dena B. Calo of Saul Ewing Arnstein & Lehr LLP, Emily Fess of Benesch, Friedlander, Coplan & Aronoff LLP, and Charles A. Krugel of The Law Office of Charles Krugel.
Your business likely functions more effectively when your employees are at work doing the work you hired them to perform? What are your rights (and obligations) as an employer when an employee is unable to work due to an illness or injury? Does the Family and Medical Leave Act apply? Do you operate in a jurisdiction that has recently enacted a sick leave law? What happens when an employee requests a reasonable accommodation because of a disability? These types of questions have been confounding employers for years and are likely to grow more complicated as state and local governments step in to fill the voids left at the federal level. Do not despair, though, as this webinar includes discussions of the mistakes commonly made by employers as well as a series of tips and pointers from a panel of experts who will help you navigate these and other thorny issues involving employees who are unable to work for health-related reasons.
The PROTECTING YOUR EMPLOYEE ASSETS: THE LIFE CYCLE OF THE EMPLOYMENT RELATIONSHIP Series is produced by Financial Poise.™ The final two episodes in the series are "I Know What You Did Last Summer: Workplace Investigations" airing on May 15th and "It's So Hard To Say Goodbye: Minimizing Risk When Terminating Employees," airing on June 19th. Each episode airs at 3:00 PM CST. All episodes will be available live through West LegalEdCenter and then on-demand following the live premiere.
As with every Financial Poise Webinar, each episode is delivered in Plain English understandable to investors, business owners, and executives without much background in these areas, yet is also valuable to attorneys, accountants, and other seasoned professionals. And, as with every Financial Poise Webinar, each episode brings you into engaging, sometimes humorous, conversations designed to entertain as it teaches. Each episode in the series is designed to be viewed independently of the other episodes, so that participants will enhance their knowledge of this area whether they attend one, some, or all episodes.
About Financial Poise™
Financial Poise™ has one mission: to provide reliable plain English business, financial and legal education to investors, private business owners and executives, and their respective trusted advisors. Financial Poise™ content is created by seasoned, respected experts who are invited to join our Faculty only after being recommended by current Faculty Members. Our editorial staff then works to make sure that all content is easily digestible. Financial Poise™ is a meritocracy; nobody can "buy" her way onto the Financial Poise Faculty.™ Start learning today at https://www.financialpoise.com/