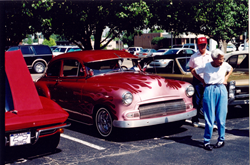 DUNCAN, Okla. (PRWEB) April 26, 2018
Main Street Duncan will be celebrating it's 11th Annual Cruisin' The Chisholm Trail Car Show with the fun beginning on Friday, April 27th with a car cruise down historic Main Street. Registration will take place at the corner of 12th St. and Main St., beginning at 6:00 PM. Cost is $10.00/car. Burn out Competition will be held at 7 pm at 12th and Walnut Street with a cost of $15.00/car.Tailgate parties welcome, so bring the whole family and join in on the action as cars, trucks, and motorcycles of all makes, models and years cruise the historic downtown until 10:00 PM.
Saturday, April 28th will begin bright and early with registration from 8:00-10:00 AM at the corner of 12th St. and Main St. Entries are $20/car and $10/motorcycle. There are multiple categories, with awards given. Judging will begin at 11:00 AM. Awards will begin at 3:00 PM. All Main Street retailers will be open and there will be street vendors and food trucks aplenty with something for everyone. Every year, the car show has a Best in Show prize of $500 in addition to the first and second place trophies for every category. In 2016, a trophy and cash prize will also be presented to the Best Bike in addition to the Best in Show prize. The Cruisin' the Chisholm Trail Car and Motorcycle t-shirts sell quickly so order in advance and as always, have fun watching the free concerts happening during the show in downtown Duncan, Oklahoma.
For more information on the car show, contact Main Street Duncan at 580-252-8696. For general information please contact the Duncan Convention and Visitors Bureau at 800-782-7167. Please send all email inquiries to mainstreetduncan(at)sbcglobal(dot)net.