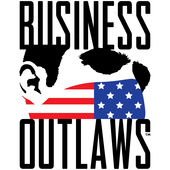 LOS ANGELES (PRWEB) April 27, 2018
Best friends, Michael ''BigMike'' Straumietis, CEO of Advanced Nutrients LTD, and best-selling author Chris Collins, founder of Syndicate X, have released the "The Business Outlaws" podcast with fellow host Jayme Foxx. According to BigMike, "The Business Outlaws" is "a podcast aimed to teach millennials the unfiltered truth about the mindset and tools needed to become a millionaire."
Collins, who just recently signed with Abrams Artists Agency (AAA), continues to explain, "Our podcast will motivate, encourage, and guide out-of-the-box entrepreneurs in alternative ways of thinking and conducting business. Our podcast will be an opportunity for listeners to hear conversations that usually happen behind doors between high-level business owners."
Jayme Foxx, who is best known for hosting CMT's Tattoo Titans, is estatic to be hosting the show alongside BigMike and Collins, and preps listeners for great and engaging episodes to come. She states, "Guests will include media and entertainment moguls, creative artists, highly successful business owners in unconventional industries, athletes, and high-capacity leaders, all who have a record of success and a story to tell about how they got there."
Collins, who met BigMike in a Master Mind over 10 years ago and clicked with him instantly, comments on the duo's journeys to success; "Both of us came from very humble beginnings and had to figure out everything for ourselves. We are entirely self-made successful businessmen, and BigMike is one of the smartest business minds I have ever met. It's not a mistake that he's a billionaire."
BigMike adds, "On the podcast, we'll go deep into the experiences that helped shape our unconventional business thinking. On many episodes, we'll talk with guests about the successes and failures that catapulted them to the top of their peer-groups. It's shocking information, and it's definitely not what you might think."
Connect with Chris Collins, BigMike, and Jayme Foxx at http://www.thebusinessoutlaws.com. The precursor episode of "The Business Outlaws" is up now, and new episodes of the podcast will be released every Tuesday on iTunes starting Tuesday, May 1st. Subscribe now to be notified of new episodes: https://itunes.apple.com/us/podcast/the-business-outlaws/id1374373038?mt=2