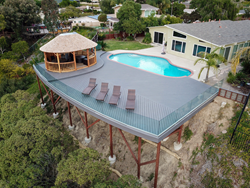 "I recommended AZEK PVC decking in Island Oak color because it is the easiest material to curve and has the most natural finish. It heats quicker, bends easier and doesn't wrinkle or break when you try to bend it." -- Blake Carter, California Deck Pros
SKOKIE, Ill. (PRWEB) June 11, 2018
Blake Carter of California Deck Pros selected AZEK®, an engineered, high-performance material for a challenging deck job on the rocky La Jolla coast near San Diego, CA. A step away from the clouds, he could have easily borrowed the theme from Jimi Hendrix' Purple Haze: "'Scuse me while I kiss the sky!"
As high as two-stories in some places, this vacation home deck maximizes the breathtaking, sweeping views of the Pacific Ocean and San Diego cityscape. He and his crew took on steep grades and daring heights to deliver a 2,000 square foot elevated deck unlike any other.
To make sure the homeowners could enjoy the views and La Jolla's abundant sun and warmth as much as possible, Carter also designed a gazebo for shade and included a fire pit for chilly nights. The deck delivers an incomparable bird's eye view that can always be enjoyed.
Originally, the home had a small hardwood deck that served as a walkway and sitting area around a pool. The owners asked Carter and his crew to design and build a new deck that would provide ample sitting and entertaining space while extending far enough to capture views of the Pacific Ocean and downtown San Diego that were currently being missed. He began by using a drone to take images that would represent views from different depths of deck. He sent breathtaking images to the owners, who live out of state, with the recommendation the deck extend approximately 30 feet from the pool to capture those views. They loved what they saw and asked Carter to create the design.
They kept the kidney-shaped pool, so Carter based his design around its curves. He developed a 3D rendering that incorporated a post-less glass rail system for an unobstructed view. An open area adjacent to the oval gazebo has a herringbone pattern for added appeal, while a double-width trim winds along the poolside. Maintaining the curvy theme, all the furniture ultimately purchased for the gazebo is round, as is the fire pit.
"The homeowner originally wanted to use composite decking, but I recommended we instead use AZEK PVC decking in Island Oak color because it is the easiest material to curve and has the most natural finish. It heats quicker, bends easier and doesn't wrinkle or break when you try to bend it," says Carter, adding he also used full AZEK boards for the fascia.
California Deck Pros often uses AZEK to create curves to set themselves apart from other builders. "We wanted to offer something no one else could," says Carter. "We curve the perimeter of the deck and add a fascia using full boards for as few seams as possible. With this finished edge, our decks look nicer for longer."
Being able to save time while creating attractive curves on the La Jolla project was a much-needed benefit for Carter, who went through an eight-month permit process with the city. At its highest point, the deck is 20 feet and the slope is more than 45 degrees.
"This was one of the steepest slopes we've ever worked on. Some of the footings had to go down 16 feet and the whole understructure is steel," explains Carter, adding his crews dug by hand with jackhammers because the slope didn't afford machine access. "We shored up the holes for safety and they hoisted the dirt out in buckets."
The crews also ran electricity to the gazebo to power a fridge, television, heaters, the fire pit and LED lighting that circles the gazebo and is in the deck's risers.
"The owners come to town roughly once a month so they saw the AZEK deck when it was framed and not again until it was finished," says Carter. "They were thrilled with the final reveal and love the way it fits every aspect of their outdoor lifestyle."
Check out drone footage of the skydeck on California Deck Pros site at https://www.californiadeckpros.com/video-gallery. For more info on AZEK, visit http://www.azek.com.
About AZEK® Building Products:
AZEK Building Products, a division of The AZEK® Company, is a leader in the development of premium, low-maintenance exterior building products. Available to a worldwide audience, our product lines span AZEK® Deck, Rail, Trim, Moulding, Porch, Pavers, and Adhesives, as well as capped wood composite decking and railing under the TimberTech® name. Both brands, synonymous with quality and innovation and made in America, lead their market areas by continually reinventing product lines and redefining entire product categories. For more information about AZEK, visit http://www.azek.com. For more information on TimberTech, visit http://www.timbertech.com.