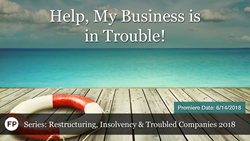 This webinar explains what a business owner should- and should not- consider and do when dealing with financial trouble.
CHICAGO (PRWEB) June 07, 2018
Companies fail all the time, for all sorts of reasons. Some companies become distressed, or even insolvent, because of mismanagement; others because of fraud; others for myriad other reasons- some intrinsic to the company and some extrinsic.
Regardless of the cause, failing or failed companies create a unique set of issues, risks, and even opportunities for all involved. This area of law and finance has become so specialized that no fewer than five (American Bankruptcy Institute; Association of Insolvency & Restructuring Advisors; Commercial Law League of America; National Association of Federal Equity Receivers; Turnaround Management Association) national organizations exist to help those who specialize in the field to stay up to date on the latest developments, strategies, and tactics in the area. This Financial Poise RESTRUCTURING, INSOLVENCY & TROUBLED COMPANIES 2018 webinar series provides an understanding of these issues and risks, in addition to guidance as to strategies for harnessing opportunities arising from these failing/failed companies.
The first episode of the series is Help, My Business is In Trouble! and airs on June 14th at 2:00 PM CST (Register Here) and features Moderator Jonathan Friedland of Sugar Felsenthal Grais & Helsinger. He is joined by William Henrich of Getzler Henrich & Associates LLC, Russell Silberglied of Richards, Layton & Finger, PA, and Todd Zoha of Morris Anderson.
When a business becomes financially troubled, the business owner often experiences denial, paralysis, or both. Lenders commonly lose confidence and then trust in the business, as communications tend to break down, deadlines are missed, and promises are broken. Small business owners commonly have issued personal guarantees, so business failure can often lead to personal financial stress. The good news is the business and business owner usually has some options, and even some leverage. This webinar explains what a business owner should- and should not- consider and do when dealing with financial trouble. Specific topics include discussion of bankruptcy (Chapters 7 and 11); assignments for the benefit of creditors; and friendly foreclosures. This webinar provides the business owner and her advisors with an overview of various restructuring and liquidation methods, a framework for how to decide between them, and practical tips for traversing the difficult environment that is financial distress.
The RESTRUCTURING, INSOLVENCY & TROUBLED COMPANIES 2018 Series is produced by Financial Poise.™ Other episodes in the series include "Opportunity Amidst Crisis- Buying Distressed Assets, Claims, and Securities for Fun & Profit" airing on July 12th, "What to Expect and Do When Your Customer Becomes Insolvent" airing on August 9th, "A Distressed Company and its Secured Lender" airing on September 6th, and "Federal Equity Receiverships - 101" airing on October 4th. All episodes premiere live at 2:00 PM CST. All episodes will be available live through West LegalEdCenter and then on-demand following the live premiere.
As with every Financial Poise Webinar, each episode is delivered in Plain English understandable to investors, business owners, and executives without much background in these areas, yet is also valuable to attorneys, accountants, and other seasoned professionals. And, as with every Financial Poise Webinar, each episode brings you into engaging, sometimes humorous, conversations designed to entertain as it teaches. Each episode in the series is designed to be viewed independently of the other episodes, so that participants will enhance their knowledge of this area whether they attend one, some, or all episodes.
About Financial Poise™
Financial Poise™ has one mission: to provide reliable plain English business, financial and legal education to investors, private business owners and executives, and their respective trusted advisors. Financial Poise™ content is created by seasoned, respected experts who are invited to join our Faculty only after being recommended by current Faculty Members. Our editorial staff then works to make sure that all content is easily digestible. Financial Poise™ is a meritocracy; nobody can "buy" her way onto the Financial Poise Faculty.™ Start learning today at https://www.financialpoise.com/