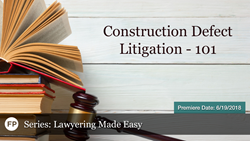 A panel of experts examine the multi-faceted issues raised by construction defect litigation.
CHICAGO (PRWEB) June 14, 2018
For those in law school, three years seems like a lifetime. But for JDs, law school memories are just a blur. And while law school provides a great foundation, there are so many things it does not teach. The Financial Poise webinar series LAWYERING MADE EASY 2018 provides lawyers, business professionals, or anyone interested in the law, with some specialized learning in four distinct areas of law.
The first episode of the series, Construction Defect Litigation-101, airs on June 19th at 1:00 PM CST (Register Here) and features Moderator Cristina Nolan of Financial Poise. She is joined by Gary Brown of Saul Ewing Arnstein & Lehr LLP and Micalann C. Pepe of Jaburg Wilk.
The old saying, "[t]he best laid plans of mice and men oft go awry" is appropriate when a construction project goes sideways. As the economy brightens, and increasingly, large construction projects dot the landscape, related construction defect litigation is expanding. This webinar begins by identifying and defining construction defects, examining applicable laws and significant court rulings. It then looks at indemnity provisions and coverage issues in construction defect claims. The webinar breaks down litigation and discusses allegations, defenses and how to prove your case. Ethical issues surrounding these kinds of cases are also explored.
The LAWYERING MADE EASY 2018 webinar series is produced by Financial Poise.™ Future episodes in the series include "Defending White Collar Crime-101," airing on July 24th, "Doing Business Abroad-101," airing on August 28th, and "Foreign Corrupt Practices Act-101," airing on October 2nd. Each episode airs at 1:00 PM CST. All episodes premiere live through West LegalEdCenter and then are made available on-demand.
As with every Financial Poise Webinar, each episode is delivered in Plain English understandable to investors, business owners, and executives without much background in these areas, yet is also valuable to attorneys, accountants, and other seasoned professionals. And, as with every Financial Poise Webinar, each episode brings you into engaging, sometimes humorous, conversations designed to entertain as it teaches. Each episode in the series is designed to be viewed independently of the other episodes, so that participants will enhance their knowledge of this area whether they attend one, some, or all episodes.
About Financial Poise™
Financial Poise™ has one mission: to provide reliable plain English business, financial and legal education to investors, private business owners and executives, and their respective trusted advisors. Financial Poise™ content is created by seasoned, respected experts who are invited to join our Faculty only after being recommended by current Faculty Members. Our editorial staff then works to make sure that all content is easily digestible. Financial Poise™ is a meritocracy; nobody can "buy" her way onto the Financial Poise Faculty.™ Start learning today at https://www.financialpoise.com/