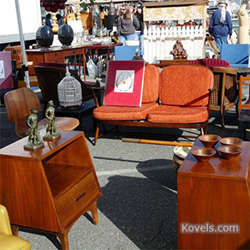 CLEVELAND (PRWEB) June 22, 2018
Summer is flea market season. With sunny weather and vacation days in mind, the Kovels have listed 8 great markets that are worth a trip. Each is known for its size, variety of items, negotiable prices and popularity.
1. Rose Bowl Flea Market
The parking lot at the Rose Bowl, Pasadena, CA
Second Sunday of every month: July 8 and August 12, 2018
Considered one of the best on the West Coast, attracting as many as 2,500 vendors and 20,000 shoppers. Find clothes, shoes, jewelry, sunglasses, ceramics, glass, furniture, pictures, crafts, keepsakes, art, fabric, bikes, costumes, music — every imaginable type of merchandise. Open rain or shine.
2. Brimfield Flea Markets
Brimfield Town Hall, 23 Main St., Brimfield, Massachusetts
Tuesday, July 10 through Sunday, July 15, 2018
Make your way to central Massachusetts to visit the market that attracts over 50,000 people three times a year in May, July, and September. This six-day Brimfield Flea Market started in 1959. Twenty-one independent show fields of dealers make up the market, and they have a staggered opening and closing schedule. This large market, stretched along a mile on both sides of Route 20, has become an exciting tradition that attracts visitors from many states and countries.
3. The Portland Expo Antique & Collectible Show
2060 N Marine Dr., Portland, Oregon
Friday, July 13, 14 and 15, 2018
Celebrating its 37th year, the Antique & Collectible Show at Portland Expo bills itself as "America's Largest." There are more than 1,000 booths both inside and outside with exhibitors from all over the country – as well as other countries – who bring vintage clothing, glass, silver, antique radios, turn-of-the-century furniture, movie memorabilia, collectible toys, sports memorabilia, all kinds of toys from the 1880s to the 1960s, porcelain dolls, pop collectibles like Star Wars, Sci-Fi books, comics and much more.
4. Long Beach Antique Market
Veterans Stadium, Long Beach, California
Third Sundays: July 15 and August 19, 2018
"The Flea Market with Style." Over 800 sellers feature a huge selection of antiques, collectibles and everything chic, cheap, unique and vintage, all at bargain prices. Find collectibles, home decor, jewelry, furniture, vintage clothing and more. The sale is spread out over 20 acres at the Veterans Stadium in Long Beach.
5. Midland Antique Festival
Midland County Fairgrounds, 6905 Eastman Ave., Midland, Michigan
July 21 and 22, 2018
The Midland Antique Festival, in operation for over 45 years, is held in June, July and again in September (22 and 23). Close to a thousand dealers from across the U.S. come to Michigan to display 80 acres of treasures in 7 buildings full of indoor stands. Outside there are even more vendors. The event features a coin and sports memorabilia building, shabby chic pieces, and heavy industrial items and hardware from across the Midwest, a car auction and sales lot, local Michigan food and music.
6. The Fancy flea – Down on the Farm
RP Funding Center, 701 West Lime St., Lakeland, FL
Friday, July 27 and Saturday, July 28, 2018
Voted one of the "top vintage markets in the country," The Fancy Flea features antiques; shabby chic; painted furniture; prairie, farmhouse, cottage and midcentury finds; repurposed items; primitives; garden décor; original art; and rustic and salvage pieces; vintage and handmade clothing, fabric and jewelry; and food trucks.
7. 127 Corridor Sale
Thursday, August 2 through Sunday, August 5, 2018
Called "The World's Longest Yard Sale," this flea market covers 690 miles and travels through 6 states between Addison, Michigan, and Gadsen, Alabama. The sale features the eclectic collections of 2,200 vendors – individuals, families and groups, and each vendor decides their own hours during the days of the sale. The event attracts buyers and sellers from across the U.S. to wander, meet new people and buy unique goods. Get off the highway and travel the scenic route – it's Americana at its best.
8. Madison-Bouckville Antique Week
Route 20, Bouckville, N.Y. (37 miles southeast of Syracuse)
Monday, August 13 through Sunday, August 19, 2018
The annual Madison-Bouckville Antique Week brings collectors, buyers and and more than 2,000 dealers and vendors from all over to the largest antiques event in New York State and one of the largest outdoor events in the country. This week-long, town-wide, free-admission event features 14 show fields, food and fun.
Kovels' readers also chimed in with some of their favorites. From west to east, here are 7 readers' picks that are also worth a visit: 1) Fremont Sunday Market, Seattle, Washington, year-round, every Sunday from 10 to 4; 2) Alameda Antique Faire, Alameda Naval Yards, Alameda, California, first Sunday of the month July 1, August 5 and September 2, 2018; 3) Fredericksburg Trade Days, Sunday Farms, Fredericksburg, Texas, July 20 to 22, and August 17 to 19, 2018; 4) What Cheer Flea Market, Keokuk County Fairgrounds, What Cheer, Iowa, August 3 to August 5, 2018; 5) Wheaton All-Night Flea Market, DuPage County Fairgrounds, Wheaton, Illinois, August 18 to 19, 2018, 3 p.m. until 3 a.m.; 6) Scott Antique Market; Fayette County Fairgrounds, Washington Court House, Ohio, June 22, 23 and 24 and August 24, 25 and 26, 2018; and 7) D.C. Big Flea & Antiques Market, Dulles Expo Center, Chantilly, Virginia, July 21 and 22, 2018.
Let Kovels know what your favorite markets are – email pr(at)Kovels.com.
About Kovels.com
Kovels.com, created by Terry Kovel and her daughter, Kim Kovel, provides collectors and researchers with up-to-date and accurate information on antiques and collectibles. The company was founded in 1953 by Terry Kovel and her late husband, Ralph. Since then, the Kovels have written some of America's most popular books and articles about antiques, including the best-selling annual Kovels' Antiques & Collectibles Price Guide. The website, Kovels.com, online since 1998, offers more than a million free prices, and includes a free weekly email, "Kovels Komments." It gives readers a bird's-eye view of the market through the latest news, auction reports, a Marks Dictionary, readers' questions and answers and much more.
Contact Information:
Liz Lillis
216.752.2252
Pr(at)kovels(dot)com