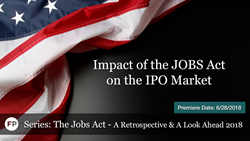 For the EGC that succeeds in an IPO, the JOBS Act "on-ramp" significantly reduces the regulatory burdens under the Securities Exchange Act reporting requirements, for example, for a five year period.
CHICAGO (PRWEB) June 23, 2018
Six years after enactment of the Jumpstart Our Business Startups (JOBS) Act, its impact in reducing regulatory burdens and barriers to capital formation for start-up, small, and emerging growth companies is ripe for consideration.
JOBS Act amendments to the federal securities laws and mandated SEC rulemaking significantly enhanced the ability of small business to raise capital in private offerings to accredited investors, breathed new life into a largely dormant form of limited public offering of up to $50 million via "Regulation A," established mechanisms for nationwide equity crowdfunding, reduced the regulatory burden for public offerings by newly defined "emerging growth companies," and altered Exchange Act registration and deregistration requirements for smaller companies.
THE JOBS ACT - A RETROSPECTIVE & A LOOK AHEAD Financial Poise webinar series examines how the JOBS Act has impacted capital formation through private offerings, as well as corporate finance for small business issuers generally, and access to the "IPO" market. In each episode, seasoned practitioner panelists explain not only how the JOBS Act has changed the regulatory landscape to date, but also how small issuers can confidently take advantage of the financing opportunities and cost efficiencies in capital formation it has created. Panelists also discuss possible future modifications to the JOBS Act mandated regulatory structure.
The third episode of the series is Impact of the JOBS Act on the IPO Market and airs on June 28th at 10:00 AM CST (Register Here) and features Moderator Robert Rapp of Case Western Reserve University School of Law. He is joined by Kristofer K. Spreen of Calfee, Halter & Griswold LLP and Jillian Sidoti of Crowdfunding Lawyers.net and Trowbridge Sidoti LLP.
Regulatory burdens associated with "going public" and thereafter with "being public" are major hurdles facing smaller issuers considering the prospects of an initial public offering ("IPO"). The JOBS Act has impacted that consideration principally in two ways. For the IPO process, the JOBS Act established an "IPO On-Ramp" benefitting smaller issuers by easing certain restrictions for a newly defined class of issuer known as an "emerging growth company" (EGC) that previously hampered the determination by those issuers whether even consider taking on the burden and expense of an IPO.
The JOBS ACT - A RETROSPECTIVE & A LOOK AHEAD Series is produced by Financial Poise.™ All episodes will be available live through West LegalEdCenter and then on-demand following the live premiere.
As with every Financial Poise Webinar, each episode is delivered in Plain English understandable to investors, business owners, and executives without much background in these areas, yet is also valuable to attorneys, accountants, and other seasoned professionals. And, as with every Financial Poise Webinar, each episode brings you into engaging, sometimes humorous, conversations designed to entertain as it teaches. Each episode in the series is designed to be viewed independently of the other episodes, so that participants will enhance their knowledge of this area whether they attend one, some, or all episodes.
About Financial Poise™
Financial Poise™ has one mission: to provide reliable plain English business, financial and legal education to investors, private business owners and executives, and their respective trusted advisors. Financial Poise™ content is created by seasoned, respected experts who are invited to join our Faculty only after being recommended by current Faculty Members. Our editorial staff then works to make sure that all content is easily digestible. Financial Poise™ is a meritocracy; nobody can "buy" her way onto the Financial Poise Faculty.™ Start learning today at https://www.financialpoise.com/