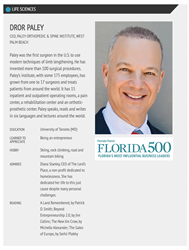 WEST PALM BEACH, Fla. (PRWEB) November 10, 2022
For the fifth year in a row, Dr. Paley was selected as one of the Florida 500 Top Business Leaders. Only eight other health professionals received the honor for 2022. This recognition celebrates the importance of Dr. Paley's vision to assemble a dream team of orthopedic and neurologic surgeons for the citizens of West Palm Beach, Palm Beach County, and Florida.
The Paley Orthopedic & Spine Institute founded in 2009 has grown to twenty surgeons in 2022. Dr. Paley recruited this all-star group from leading teaching hospitals around the United States including Harvard University, Johns Hopkins University, New York University, Washington University, University of Miami, University of Minnesota, University of Mississippi and more. Due to Dr. Paley's vision and leadership Palm Beach County can now boast of having one of the top Orthopedic Limb and Spine Institutes in the United States and the world.
The Paley Orthopedic and Spine Institute at St. Mary's Medical Center and Palm Beach Children's Hospital attracts patients from all 50 states and over 100 countries. It is the largest medical tourism orthopedic institute in the United States. The Paley Institute has expanded internationally to include the Paley European Institute at Medicover Hospital in Warsaw, Poland, and the Paley Middle East Clinic at Burjeel Medical City Hospital in Abu Dhabi, United Arab Emirates.
The mission of all Paley Institutes is to provide the highest level of orthopedic surgical care available for all aspects of musculoskeletal surgery of the spine and limbs. Dr. Paley and the Institute appreciate the recognition given to the organization by Florida Trend Magazine.
About Dror Paley, MD
Dror Paley, MD introduced the current techniques of limb lengthening to the United States in 1987. Since then, he has performed more than 25,000 surgical procedures, has invented over 100 new surgical procedures, written 8 books and over 250 peer-reviewed articles, has numerous patents, and has developed the most important limb-lengthening and deformity correction devices used around the country and the world. He was awarded numerous local, state, national, and international awards.
Dr. Paley founded the Paley Orthopedic & Spine Institute, located in West Palm Beach, Florida which is the largest and best-known orthopedic medical tourism center in the United States, with satellites in Europe and Asia, treating patients from more than 100 countries. He speaks and lectures in six languages. He is married, has four children and two grandchildren. His hobbies include cycling, rock climbing, scuba diving, and reading history. Learn more about Dr. Paley at paleyinstitute.org.