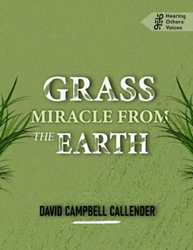 "A compelling experiment in estrangement and jamais vus that demonstrates— with accessible intellectualism and passionate writing— how disruption to a daily worldview is essential to new avenues of thought." - Charles Asher, reviewer
NEW YORK (PRWEB) May 13, 2020
Grass is also a symbol, a science, a history, a poem, all in one. The book teaches that something as seemingly banal as a blade of grass contains, in fact, the starting point for an anthropology, the inspiration for literary traditions, the backbone of economic analyses. These disparate disciplines are illuminated and intertwined, quite uniquely, by this beautifully written and illustrated study of an often-neglected plant: a green blanket that holds the world together. Tread on it, play on it, eat it (as three kinds of grass make up the major food group of humans) and now come to truly see it.
"Grass: Miracle from the Earth" has received a Gold Award from Literary Titan and glowing accolades. Noted reviewer Charles Asher calls it, "A compelling experiment in estrangement and jamais vus that demonstrates— with accessible intellectualism and passionate writing— how disruption to a daily worldview is essential to new avenues of thought."
"Grass" is a new installment of the "Hearing Others' Voices" collection, a transcultural and transdisciplinary series of books covering a wide range of topics and points of view, written in straightforward language to inspire general readers and most especially young adults and open them to new ideas and new ways of living, published by Balestier Press.
Watch the video at: https://youtu.be/NkH8PN2YCZs
About the author: David Campbell Callender is a pen name for Ruth Finnegan, adapted in memory of her gifted Irish grandfather. Ms. Finnegan is an anthropologist and multi-award writer; she is Emeritus Professor, the Open University, holder of the Royal Anthropological Institute's Rivers Memorial Medal, Fellow of the British Academy, International Fellow of the American Folklore Society, and Honorary Fellow of Somerville College Oxford. Her work includes "Oral Literature in Africa," "Oral Poetry," "The Hidden Musicians," "Communicating," "Why do we quote?" and the acclaimed novel, "Black Inked Pearl." She is a joint editor of "Hearing Others' Voices," a new, anthropological inspired, transcultural and transdisciplinary series for young adults.
Learn more at http://www.ruthhfinnegan.com.
"Grass: Miracle from the Earth" (ISBN: 978-0244257651) is available directly from Lulu.com, as well as from Amazon and other online retailers.