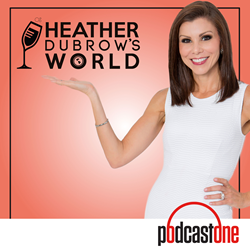 My intent has always been to share, inspire, learn and have a few laughs along the way.
(PRWEB) August 09, 2018
It's Heather Dubrow's world, and millions of people are living in it! Today, Dubrow's hit podcast "Heather Dubrow's World," from the PodcastOne network, announces its biggest milestone to date -- 30 million downloads, with over two million downloads per month, and these numbers show no sign of slowing down. For two hours each week, the actress, television personality, host, wife and mother gives her many listeners a look into today's hottest trends, as well as her own personal day-to-day experiences on the popular podcast.
With an Apple Podcasts rating of 5-stars, Heather Dubrow's World is one of the best reviewed and most popular podcasts on the PodcastOne network. The show is currently one of the most successful podcasts among young women, with an audience of 94% women between the ages of 25-55 -- a coveted demographic.
"I'm blown away that this passion project of mine has turned into something so huge," said Heather Dubrow. "What began as a way to document my tastes, daily life hacks, and vent out life's frustrations has become something that is meaningful to so many people. My intent has always been to share, inspire, learn and have a few laughs along the way. It's incredible to see that the hard work from the whole team at 'Heather Dubrow's World,' especially my ever present, incredible sidekick Natalie Puche, is paying off in such a tangible way. I'm excited to continue this journey and take my listeners along with me."
"I can't tell you how happy I am for Heather and her audience," said Norman Pattiz, Chairman and CEO of PodcastOne. "She does a great show, and she is a pleasure to work with. Now that we're doing two shows a week, and the audience continues to grow, we should go to the next 30 million in a fraction of the time."
Hear a clip about how Heather celebrated: https://youtu.be/ZU9h4vwyKq4
"Heather Dubrow's World" is available for download every Thursday and Friday at PodcastOne.com and Apple Podcasts.
About PodcastOne
PodcastOne, (http://www.PodcastOne.com) the nation's leading advertiser-supported podcast network, was founded by Norman Pattiz, founder of radio-giant Westwood One. The network currently hosts more than 200 of today's most popular podcasts, including Adam Carolla, Shaquille O'Neal, Steve Austin, Kaitlyn Bristowe, Dennis Miller, Dan Patrick, A&E's Cold Case, Spencer and Heidi Pratt, Rob Riggle, Scheana Shay, Heather and Terry Dubrow, Jim Harbaugh, Ladygang, Martellus Bennett, Dr. Drew, Chael Sonnen, Penn Jillette, Rich Eisen, Jay Mohr, Barbara Boxer, Laura Ingraham and hundreds more.