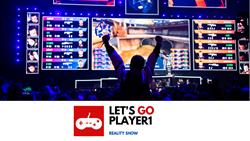 We are excited to announce a new paradigm in bridging the gap between mainstream channels and the exhilarating world of esports
LUXEMBOURG (PRWEB) July 15, 2020
Today, Hiventure Media announces the launch of its show "Let's Go Player 1". Picked from the public in a gruelling tournament, fifteen hardcore video-gamers battle to make the professional team and eSports history, as they challenge each-other, the odds, and themselves to become champions.
Against the electrifying backdrop of international competitive gaming, watch this squad of misfits chosen from the audience risk their dreams, relationships, and livelihood to pursue eSports superstardom. Presented by famous hosts and casters, coached by champions, aided-and-abetted by iconic athletes that mentor and challenge them, only five will make the cut. Who will win the large prizes at stake and be chosen to attempt rising international ranks with our professional team? How do they live the conflicts arising?
Thomas Sanne, Director of Hiventure Media, states: "We are excited to announce a new paradigm in bridging the gap between mainstream channels and the exhilarating world of esports. We are strong believers there are many benefits to be gained for all those involved. On one side, we put a generation back in touch with a format they appear to have lost touch with and on the other we legitimize eSports and videogames in general, redeeming them in the eyes of the mainstream to overcome their stigma."
Hiventure Media is developing the project together with leading European production and commissioning entities, and some of the greatest names in eSports. The show will be shot in Luxembourg, with the Pilot taking place in early autumn 2020. "Let's Go Player 1" (https://letsgoplayer1.show/index.html) is an exhilarating, uplifting tale told through today's hottest form of entertainment, and proves how videogames can overcome any obstacle towards gender, social, and cultural integration.
Stay tuned for more exciting news concerning our outstanding partners and growing team.
Hiventure Media Sa - Luxembourg (https://hiventuremedia.com/) is the Production Company that owns and develops the IP of the show. It produces digital content for impact, striving to be "Vice Media" for the millennial gamer who wants to change the world. It takes highly impactful social themes, channels them through gaming content, and targets millennials leveraging cutting edge technology that improves user experience. Based in Luxembourg since 2016, it produced a film now streaming on Hulu, just launched one of its games on Steam, has another one in beta, and 2 projects under development - all implying strong social impact.