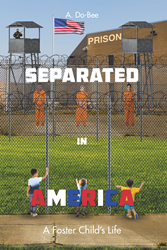 MEADVILLE, Pa. (PRWEB) May 08, 2020
"Separated in America: A Foster Child's Life": an honest retelling of a life that braved the harsh beatings of the world and made a successful life after getting back up and standing strong. "Separated in America: A Foster Child's Life" is the creation of published author A. Do-Bee, a brilliant writer who wishes to share one's story
Do-Bee shares, "As a child I was never afraid to die but, I was afraid to live.
"In America, there are thousands and thousands of foster children. Most have a happy place to call home. There are a percent who live in a home of abuse of all forms. I am writing my autobiography to bring attention to those who are abused and have no way out. I lived in six different foster homes and two group homes, and in three of the foster homes, I was abused, beaten, raped, and used as a sex toy, and I was raped in one group home. I promised myself no matter what that I would make it. I would be someone making the right choices in life because, after all, it was God who gave me this life, and I know He watched over me. He sent people when I needed them most. We foster children are separated from our parents through no fault of our own. Our parents can be drug addicts, criminals, may just not have the means to provide, or they abuse the child. I watch the news and see the children taken from their parents as the police put Mom and Dad in the police car and CYFS, Children Youth and Family services, load the children in a car, and off we go to God knows where. Most people watching the same news station say, 'Thank God the children are safe.' Are they? Do you understand what happens next to the American foster child?
"Once the news story is over, you forget all about those children, but their hell is just beginning. We are plunged into a world where we have no control, into strangers' homes or into group homes with kids just like us or kids who take advantage of us. It is one scary place to be, and you have no clue what happened to your parents or if they are coming to get you or you are now just a name on paper and forgotten about. This country needs to take care of their own children. It is on the parents, and their choices dictate their children's lives.
"I grew up in foster care from age seven to nineteen. I made my choices. I graduated high school at nineteen and went to college and then to tech school to become an auto mechanic, I worked two part-time jobs and a full-time job and paid back all of my school loans on my own and made it in life. I write my childhood down in hopes of just one foster child to read, and I pray it has an effect on them to strive to become a productive person and make it.
"In the end, I got the payoff I have always wanted—a person to love me for me, and I married her, and twenty-five years later, we are still soulmates and best friends. She is my life, and I am hers, and now, our child is our life. Thank you and God bless."
Published by Christian Faith Publishing, A. Do-Bee's new book accounts the devastating events of an individual as a foster kid in the hopes of bringing inspiration to those who are facing similar challenges. The author hopes that everyone who finds this story may also find hope and strength to stand up and reach one's goals despite how the world bars them.
View a synopsis of "Separated in America: A Foster Child's Life" on YouTube.
Consumers can purchase"Separated in America: A Foster Child's Life" at traditional brick & mortar bookstores, or online at Amazon.com, Apple iTunes store, or Barnes and Noble.
For additional information or inquiries about "Separated in America: A Foster Child's Life," contact the Christian Faith Publishing media department at 866-554-0919.