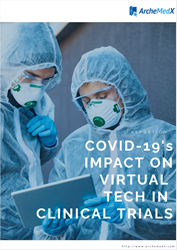 CHARLOTTESVILLE, Va. (PRWEB) September 23, 2020
Today, ArcheMedX, a leader in behavior-based learning and operational insights for life sciences and healthcare organizations, announced the results of its new survey, "COVID-19's Impact on Virtual Tech in Clinical Trials." The findings reveal brand-new insights into how clinical trial leaders in pharmaceuticals, biotech, and clinical research organizations are accelerating the use of virtual solutions to advance clinical research in the current and post-pandemic environment.
The report found that 89% of trial leaders are rapidly adopting remote and virtual technologies, particularly across study start-up, and cutting through the inertia that often hinders such changes. These insights are especially relevant, as clinical operations teams increase the pace of resuming studies in an effort to pursue clinical research despite the continued impact of the pandemic.
More specifically, sponsors and CROs showed that clinical trial start-up activities were the most "digitally immature" and thus most ripe for virtualization. Across site selection, investigator meetings, and site initiation, respondents overwhelmingly agreed that they will be increasing the use of virtual methods, or replacing face-to-face interactions altogether.
The ArcheMedX report revealed that sponsors and CROs are also more concerned about how they select and prepare study sites to conduct their trials. Despite a majority of sponsors and CROs believing their approach to preparing sites was effective pre-COVID, 80% now believe they need to improve which sites fully understand inclusion/exclusion criteria for a trial and 73% report they need to improve their ability to identify which sites understand IP and sample management. Overall, 78% of respondents now say they have major improvements to make in identifying trial-ready sites.
"The results of the survey confirmed what we've heard anecdotally for years: that clinical operations leaders -- both sponsors and CROs -- recognize that they're losing valuable time to preventable errors and delays due to ineffective study startup processes," said Joel Selzer, CEO of ArcheMedX. "COVID-19 has forced sponsors and CROs to embrace a new, virtualized approach to selecting, preparing, and initiating their teams and sites which can dramatically improve overall study performance."
For example, COVID-19's restrictions have catalyzed the industry into a major change in perception around the utility of virtual meetings. 61% of sponsors said they are converting all clinical operations meetings to virtual ones, including Principal Investigator (PI) meetings and site initiation visits.
Most striking, 74% of respondents now believe that virtual PI meetings can be just as or more effective than those conducted in person vs. the 68% who had said PI meetings should only be held in person before the pandemic. The report also found site initiation visits ripe for virtual disruption - with 74% of sponsors committing to increased virtual delivery during site initiation and 90% of CROs seeking to fully virtualize site personnel training.
"COVID-19 has forced us to see the benefit of having virtual/electronic systems in place to mitigate unforeseen occurrences along the lifespan of a clinical study. Electronic tools are obviously not new, but embracing the tools is uncomfortable," said Kevin Crawford, Director of Clinical Operations at Tenax Therapeutics, Inc. "I find it interesting, but not surprising, that the ArcheMedX report shows CROs to be more bullish on the technology, especially around investigator meetings and training. Without having a modality to distribute their knowledge to a CRO in a systematic, verified, trusted way, there is a reasonable concern that the study is "being thrown over the fence." It may be unnecessary angst, but based on ArcheMedX data, it certainly exists."
ArcheMedX provides a software platform, Ready, that enables CROs and Sponsors to predict and improve clinical trial site and team performance. The findings in the report mirror the increased adoption Ready has experienced across the industry as the platform reveals precisely which sites, teams, and individuals are likely to be high performers and enables CROs and Sponsors to remediate potential risk areas — earlier than ever before.
According to Kelly Ritch, EVP of Clinical Research Solutions at ArcheMedX. "Sponsors have made it clear that they're expecting to adopt virtual technology throughout the study start-up - which has been primarily conducted in-person until now. This also aligns perfectly with their increased need to better measure trial site readiness, as the wider adoption of virtual technology makes more accurate site and team assessment a reality."
To learn more about Ready by ArcheMedX, visit http://www.archemedx.com/ready.
About ArcheMedX: ArcheMedX enables companies across the life sciences and healthcare industries to accelerate the development and adoption of new clinical therapies and best practices. We do this through a data-powered approach to upskilling and evaluation.
ArcheMedX's flagship product, Ready, predicts and improves how teams and clinicians will apply knowledge and skills in real-world scenarios by applying behavioral science to enhance how individuals learn and retain information. Ready is used by global CROs, sponsors, and healthcare organizations to inform operational decisions and improve performance for over 100,000 clinicians and clinical research professionals worldwide.
Press kit:
Summary: https://www.archemedx.com/corp-blog/virtual-clinical-trials-survey-reveals-study-start-up/
Full report: https://www.info.archemedx.com/covid-impact-clinical-operations-report