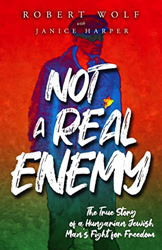 NEW YORK (PRWEB) November 17, 2022
Robert Wolf, author, speaker, and media personality releases his new book "Not a Real Enemy: The True Story of a Hungarian Jewish Man's Fight for Freedom." The book details the remarkable story of his family's history that follows his Jewish parents and grandparents first living under the Nazis, and then under the communist regime in Hungary. It explores the depths of his family, shares their experiences, and his father Ervin Wolf's quest for freedom. This insightful and deeply-felt book is riveting, compelling, and inspiring. This is one of the best and most anticipated books that will become your favorite book of 2022 and beyond.
In 1944, almost half a million Jewish Hungarians are deported to Auschwitz. Among the few surviving Hungarian Jews from this era were young men who, like Ervin Wolf, were conscripted into the brutal Forced Labor Service where they were cut off from the outside world and ordered to endure inhumane brutalities and servitude. Once freed, a new oppression took hold as communist rule under Stalin turned friends to foes, enveloped the nation in fear and suspicion, and tested everyone's character and strength.
This is the true story of Ervin Wolf and his family as the fascist tide of Eastern Europe takes hold of Hungary. From the Wolfs' comfortable upper-class life to imprisonment, daring escapes, tragic deaths, cloak-and-dagger adventures, and Ervin's final escape to freedom in the dead of night, "Not a Real Enemy" is a page-turning tale of suspense, tragedy, comedy, and ultimately, triumph.
"Not a Real Enemy: The True Story of a Hungarian Jewish Man's Fight for Freedom" is available at retailers and online including at Barnes & Noble and at Amazon:
https://www.amazon.com/Not-Real-Enemy-Hungarian-Holocaust-ebook/dp/B0B9C7JYQ5
About Robert Wolf
Robert Wolf, M.D., grew up as the only child of Ervin and Judit Wolf. Their stories of their escape from communist Hungary, and his father's tragic history of escaping the Nazis twice but having his own parents deported to Auschwitz, inspired Robert to document his parents' tales and share those stories with Jewish groups and others throughout the United States. In "Not a Real Enemy" Robert shares his family saga-and the forgotten history of the nearly half million Hungarian Jews who were deported and killed during the Holocaust-through an epic and inspiring tale of daring escapes, terrifying oppression, tragedy, and triumph.
Robert Wolf is featured in media and TV. For more information on "Not a Real Enemy: The True Story of a Hungarian Jewish Man's Fight for Freedom," please visit: https://robertjwolfmd.com and follow @robertjwolfmd on social media. For media interviews with Robert Wolf, contact Tamara York of Tamara York Public Relations via email at Tamara@tamarayorkpr.com.