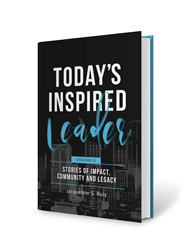 "These new authors focus on the positive aspects that is within every person and can be activated if they allow themselves to tap into them. Once activated, it changes their personal and professional lives and even the world outside."
NORTH AURORA, Ill. (PRWEB) October 29, 2020
Fifteen local, regional and international authors from the business and nonprofit world shared their professional personal stories of how they became leaders in their own right during the "Today's Inspired Leader Volume II" virtual book launch.
Spun with inspiration, priceless wisdom, and humor, the "Today's Inspired Leader" book series, published by Fig Factor Media Publishing, is a collection of stories that depicts men and women at their best—achieving success, learning from failures, and finding the path to a life of significance within their work, families, and communities. By sharing the rich tapestry of their experiences within their personal and professional worlds, each leader opens readers' minds to possibilities within their own lives, and where they can journey if they let vision, grit, and faith lead the way.
The book is the brainchild of Jacqueline S. Ruiz, owner of Fig Factor Media. After last year's success of "Today's Inspired Leader Volume I," Ruiz discovered more motivational subjects who opened their personal lives to encourage readers to live their best lives.
"There is never a limit to inspiration," she said. "These new authors focus on the positive aspects that is within every person and can be activated if they allow themselves to tap into them. Once activated, it changes their personal and professional lives and even the world outside."
The Today's Inspired Leader Volume II Leaders are the following:

Perla Tamez, successful Latina serial entrepreneur, author and motivational speaker
Steve Salazar, vice president of THG Financial
Maria Castro, speaker, author and regional external affairs manager of Comcast
Rick Najera, award-winning Hollywood writer, host of "Latino Thought Makers" and "Najera in America"
The Rev. Christine Coleman, motivational speaker, televangelist, founding pastor of Blazing Holy Fire Church and author of "SOS: Rwanda's 30-Year Apocalypse"
Afi De Haan-Oubaibra, founder of Devotus and leads various major European grant projects aimed at the labor integration of vulnerable groups and refugees
Elijah Litscher, founder and chief digital strategist at The Loop Marketing Inc.
Karen Dix, founder of Big Ideas Writing, a B2B marketing and editorial services agency
Mauricio García, co-founder at IridiumSoft
Terrie Simmons, director of Women's Business Development Center
Tanesha Lambert, founder and managing partner of IntelQuest
Melissa Kehl , president of Rieke Office Interiors
Virginia C. Terceros Huylebroeck, general director of WZC Nursing Home in Westerlo, Antwerp in Belgium
Ricardo Trinidad, president of Telecom & Data
Macarena Tamayo-Calabrese, president and CEO of Naper Settlement
Authors such as Castro see leadership as something can be encouraged and continued through others willing to take the journey.
"With this book that we are launching today comes a great opportunity to change lives but also to make sure that we, as influencers and as leaders, making sure that we are paving the way to giving others the opportunity to take that same road and they themselves take someone along with them," she said. "I always say that it's wonderful to have a seat at the table but I always have five chairs with me so I can bring five other people with me and hopefully they bring another five as well."
García said that he has learned much from mentors in his life. Those experiences helped him pursue the ideas instilled in him.
"One of my mentors said to me that if you want to positive changes in your life, all you have to do is change your attitude," he said. "If you want massive change in your life, you have to change your paradigm."
"Today's Inspired Leaders Volume II" is available on Amazon. For more information, visit http://todaysinspiredleader.com/.
About Fig Factor Media:
Fig Factor Media Publishing is an international publishing company with a "beeping" heart. Fig Factor Media has helped many authors achieve and support their dream of impacting their communities in the United States, Mexico, and Europe. Fig Factor Media is the official publisher of Today's Inspired Latina. For information, visit
http://www.figfactormedia.com. ###