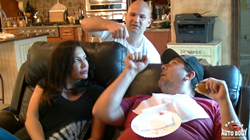 We created the "I Gotta A Guy" video because we wanted people to think of us and feel comfortable calling us when they needed their car fixed.
STATEN ISLAND, N.Y. (PRWEB) November 04, 2019
Barry's Auto Body shop, Staten Island has released the long awaited Episode 4, of the Donna & Vito "I Gotta Guy" YouTube comedy series. Episode 4, entitled, "I Can Fix it Myself", sends the message to drivers that life is so much easier when you let a professional fix your vehicle rather than attempting to do it yourself.
The "I Gotta A Guy" comedy series was launched on YouTube in 2016 with a video by the same name. Barry's Auto Body owners, brother and sister team Barry and Michele Crupi, thought it was a good idea to inject a bit of humor into the automotive repair experience.
Said Barry Crupi, "People always remember the things that make them laugh. That's why we wanted to inject a little humor into our consumer education. When people have to get their car repaired after an accident or because it broke down, they are usually anxious and frustrated because they have no idea how bad the car is damaged, how much it will cost to repair the damage and how long the car will be in the shop. We created the Donna & Vito, "I Gotta A Guy" video because we wanted people to think of us and feel comfortable calling us when they needed their car fixed."
What started out as a funny 85 second video about a blue collar, Staten Island couple who argue over where to get their car fixed, grew into a series that has been viewed by hundreds of thousands of people on YouTube and on other platforms.
"When we saw how well the first video did, and when people began asking us if there were going to be future episodes, we knew we had to add more Donna and Vito videos to our YouTube channel."
The Donna and Vito characters are reminiscent of the Alice and Ralph Kramden characters from the 1950s comedy series, "The Honeymooners". Similar to Alice, played by actress Audrey Meadows, Donna, played by local comedian, Jen Remauro, is just a bit smarter than her husband. Similar to "The Honeymooners" husband, Ralph Kramden, played by Jackie Gleason, Vito, played by Staten Islander George Passariello, is quick to become agitated with Donna, but no matter how much he yells and flails, Donna stands her ground and in the end proves that she knows what she is talking about - even when it comes to having the car fixed by Barry Crupi, played by himself, who pops in and out of the videos .
Continued Crupi, "We wanted people to connect with Donna and Vito so we cast Staten Islanders in the lead roles. Jen and George have such amazing chemistry that you really believe they have been married for years. I love working with them on this series. We spend lots of time laughing and it carries over in the finished product."
The four episodes in the series are: Episode 1, "I Gotta Guy" which focuses on the repair of a lost bumper which Donna insists was, "just a little scratch before it fell off."
Episode 2, "You Called Who First?" focuses on the problems a driver can face if s/he files an insurance claim improperly.
Episode 3, "The Stain," which was the most popular video in the series, focuses on auto detailing, most specifically, the ability to get out what looks to be a gory, bloody stain on the cream upholstery of Vito's car. The producers chose to include out-takes from the actual video shoot which have been reported to be as funny as the actual video.
In addition to the Donna & Vito, "I Gotta Guy" series, Barry's Auto Body YouTube channel contains "how to" and "product comparison" videos. Among the most popular are: "How to Clean, Wax and Polish Your Car", How to Buy a Car - Pre-owned", and "How to Clean Your Battery Terminals Using Coke-A-Cola."