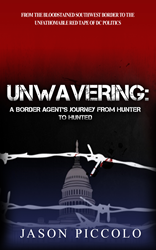 "It's great to get a view of the border and homeland security from someone who actually worked it and keeps politics out of it. Jason does that, and it comes through in every word of this book." -Brian Kilmeade, Host of Fox & Friends
WASHINGTON (PRWEB) March 10, 2019
Releasing this week. Unwavering: A Border Agent's Journey from Hunter to Hunted by Jason Piccolo. Piccolo brings you from the bloodstained Southwest border to the unfathomable red tape of DC politics!
Unwavering Book Trailer
Read first hand accounts of the real life border "wars" from narco-trafficking to human smuggling to undercover operations. Piccolo details his first hand accounts as a former U.S. Border Patrol Agent, U.S. Customs Service/ICE Special Agent, and ICE Supervisor from the southwest border to the bureaucratic nightmare of Washington, DC. Piccolo provides expert commentary across several platforms; from main stream media, to radio, to podcast, and in-person. Piccolo regularly contributes opinion pieces to national news outlets.
From the Author: I wrote this book to detail the border crisis,that the crisis is not new, and we can solve it, one step at a time, one piece of legislation at a time. I also wrote this book to detail the work the brave agents on the border and in the interior of our country are doing to curb violence and get bad actors off the street...from child predators to weapons traffickers to human smugglers, the list goes on.
About Dr. Jason Piccolo: Jason Piccolo is a former special agent and supervisor with the Department of Homeland Security. Piccolo patrolled trafficking corridors as a U.S. Border Patrol agent near the San Diego and Mexico Border. Piccolo went on the disrupt major narco-smuggling organizations and landing an assignment to the prestigious White House Security Council's Human Smuggling Cell. Piccolo's homeland security career ended abruptly when he blew the whistle in 2015 after he uncovered thousands of unaccompanied alien children were being released to criminals, including sex offenders, by members of the very government he served.
Piccolo served in the United States Army from Private to Captain, including a tour in Iraq in 2006 to support the Combined Joint Special Operations Task Force - Arabian Peninsula as their Anti-Terrorism Officer. Piccolo left military service in 2006 as an Infantry Captain after serving in the active and reserve components since 1993. Piccolo remains active as a mentor to veterans and spouses.
Piccolo earned a B.S. in Law Enforcement, Master of Forensic Science, and a Doctorate in Strategic Service. Piccolo is also a Certified Fraud Examiner. Piccolo can be found on twitter @drjasonpiccolo