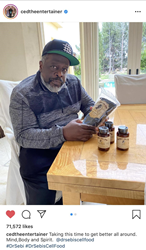 LOS ANGELES (PRWEB) June 16, 2020
"Cedric The Entertainer showcased his at-home wellness routine," reports EXTRA TV, referring to an Instagram post the beloved comedian, actor, and gameshow host published to his account the morning of Sunday, June 7, 2020.
The image features Cedric The Entertainer (The Steve Harvey Show, The Original Kings of Comedy, Barbershop) with a collection of Dr. Sebi's Cell Food products, accompanied by the caption, "Taking this time to get better all around. Mind, Body and Spirit."
The post was well received by the celebrity's 2.5 million followers, garnering nearly 72k likes and over 1k comments at the time of reporting.
The Dr. Sebi's Cell Food products included the brand's signature Testo, a natural testosterone and stamina booster; Viento, a potent mix of beneficial herbs for natural energy; Green Food, A multi-mineral formula that promotes good health and nourishment; and Immune Support Tea, packed with the antioxidant rich elderberry, one of nature's most versatile traditional remedies.
Dr. Sebi's Cell Food was established by Dr. Sebi, born Alfredo Bowman, whose interest and longtime study of the healing properties of plants led him to develop the African Bio-Mineral Balance Diet, including guidelines for an alkaline diet and nutritional supplements that offer profound nourishment for all people.
Notable fans and followers of Dr. Sebi's included high profile clientele including Michael Jackson, Eddie Murphy, John Travolta, Lisa "Left Eye" Lopes of TLC, Teddy Pendergrass and Brother Polight. Cedric The Entertainer is one of millions of Dr. Sebi's Cell Food fans who prove that these products continue to enrich the health and wellbeing of people around the world.
About Dr. Sebi's Cell Food
Dr. Sebi's Cell Food is a distinguished producer of plant-based supplements for those seeking positive pathways to improving their lives. They offer natural botanical compounds based on the formulations of their founder, Dr. Sebi. He began creating natural plant-based compounds meant to cleanse and revitalize the cells. This led to the establishment of Dr. Sebi's Cell Food, which has, for the last thirty years, continued Dr. Sebi's commitment to providing natural ways to help people live a better life. Subscribe to the Dr. Sebi newsletter at drsebiscellfood.com, or follow them on Instagram at @drsebiscellfood.