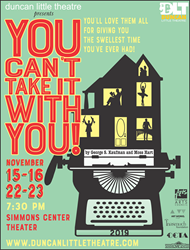 DUNCAN, Okla. (PRWEB) November 08, 2019
Duncan Little Theatre will bring "You Can't Take It With You" to the Simmons Center Theater stage on November 15-16 and 22-23. Performances will begin at 7:30 PM with the box office opening at 6:30 PM prior to each nightly performance. Mark your calendars now to attend this side-splitting comedy.
At first the Sycamores seem mad, but it is not long before we realize that if they are mad, the rest of the world is madder. In contrast to these delightful people are the unhappy Kirbys. Tony, the attractive young son of the Kirbys, falls in love with Alice Sycamore and brings his parents to dine at the Sycamore home on the wrong evening. Shock ensues, and Alice finds her marriage to Tony is out of the question. Tony, who knows the Sycamores are right and his own people wrong, will not give Alice up so easily. Will the families find a way to accept each other, and will love indeed conquer all? With a diverse cast of 18 hilarious characters, join Duncan Little Theatre for an idealistic comedy that reinforces the idea that you can only live life to the fullest by doing whatever makes you happy.
This show is directed by Duncan native Sharon Burum and produced by Teresa Blalock and Derrick Miller.
Tickets are $20.00 per adult and $15.00 per senior, student, and military. Tickets are available online at http://www.duncanlittletheatre.com or by cash/check at the Simmons Center events office. For more information, please contact Duncan Little Theatre at (580) 252-8331.