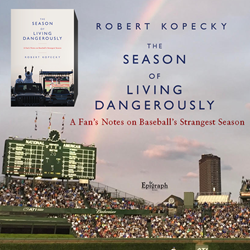 Covid-19 has inflicted a brutal human cost in lives and livelihoods, and it has disrupted everyday life for Americans in numerous less significant ways. For me and many others, one of the greatest of those petty inconveniences was the loss of baseball.
CHICAGO (PRWEB) March 08, 2021
Major League Baseball, like many aspects of life in America, was brought to a halt by the Covid-19 pandemic that spread through the country beginning in early 2020. And when a shortened 60-game season began in late July, it played out as a season unlike any that fans of the game had ever seen.
Games were played in stadiums devoid of fans, with piped in crowd soundtracks. And rules changes implemented to facilitate play in a compressed and Covid-compromised season resulted in numerous events never before seen in the game.
For many fans of the game, it was a season of conflicting feelings -- from rejection of the truncated schedule as a "real" season, to ambivalence about whether the games should be played at all while the pandemic persisted, to longing for the pleasure of having baseball games as one diversion amid months of stress and isolation.
"The Season of Living Dangerously" reflects the views of one lifelong, dedicated baseball fan — his informed reactions, observations, and opinions — on the games, the players, and the context in which the season unfolded, including the fate of his hometown Chicago Cubs, recorded as he experienced this strangest of baseball seasons.
"My hope is the book will resonate with other fans, cause them to think more about how they reacted to the season, and perhaps appreciate some of the connections that I saw between the players and games of last year and what happened in prior years."
"Robert Kopecky's "The Season of Living Dangerously" is an engaging diary of Major League Baseball's pandemic-shortened season in 2020. Kopecky's amiable and thoughtful prose reminds you that, more than any other sport, baseball is a game of conversation. He has a natural feel for its ambling rhythms, a sharp ear for its poetry and wit, a keen eye for the revealing statistic, and contagious affection for all manner of characters in the game - all-stars, working stiffs, eccentrics, and scribes. Most rewarding is Kopecky's running dialogue between baseball's past and present as he documents what was the strangest, most unsettling season in baseball history, yet one that also offered reassurance that whatever else is wrong with America, we still have baseball. Thank God." - Mark Stryker, author of "Jazz from Detroit" (University of Michigan Press)
About the Author
Robert Kopecky graduated from the University of Chicago Law School in 1979 and has been a litigator at Kirkland & Ellis in Chicago for 40 years. Although he has spent his professional career writing for a living, this is his first book. He lives in Oak Park, Illinois.
To arrange interviews with the author or to request review copies of "The Season of Living Dangerously," please contact: seasonoflivingdangerously@gmail.com.
To learn more, visit The Season Of Living Dangerously on Facebook
Available now at Amazon and Bookshop.
All proceeds from book sales go to Beyond Hunger, a Chicago area non-profit whose mission is harnessing the power of communities to end hunger.
For more information about the publisher, visit Epigraph Books.