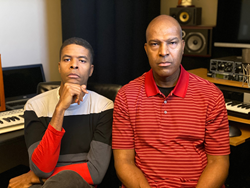 WASHINGTON (PRWEB) June 08, 2020
When Dante suggested to his songwriting Dad that he write a song that addresses racial profiling, neither one of them knew that it would turn out to be so impactful. That song, however, appropriately called the "I Can't Breathe" song - is so compelling and so real that the song itself takes your breath. (Listen now on YouTube)
Using a dramatic blend of R&B and pop, the tune creatively conveys a very familiar narrative that African Americans and others that are often the victims of police misconduct can easily resonate with. It is extremely thought-provoking with harsh, but truthful lyrics, and the topic is no joke.
Irvin, who calls himself The Undiscovered Artist, wrote and produced the song in his home studio within about 8 days. He is also the singer.
"My dad is the genius songwriter," Dante says. "I'm just the co-pilot, but the way this song turned out will stun people. It really is a breath-taking song that was written with George Floyd, Ahmaud Arbery, and Breonna Taylor in mind."
Currently, the song can be streamed for free on YouTube, on SoundCloud, and via the song's official web site at https://www.ICantBreatheSong.com
It will be available soon on iTunes, Spotify, Amazon Music, and all major digital music platforms, and a portion of the revenue generated will be used to help victims of police brutality.
About the Artist
The Undiscovered Artist is signed to his own independent record label called Music U Can Feel. He is also the writer, producer, and singer of another popular song that addresses the reality of COVID-19. It's called "The Rona Song" and can be streamed for free on all digital music platforms.