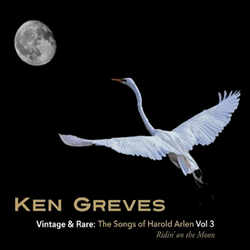 The idea was to record these wonderfully crafted songs and bring them to the modern ear, with hip arrangements in different grooves-swing, jazz waltzes, bossa novas, ballads, and sometimes swift up-tempos
NEW YORK (PRWEB) October 19, 2020
"This third CD "Ridin' on the Moon" Vol. 3 is a part of a 10 CD project slated to record Arlen's music in a comprehensive way to include rare, vintage, novelty, and instrumental songs. The idea was to record these wonderfully crafted songs and bring them to the modern ear, with hip arrangements in different grooves-swing, jazz waltzes, bossa novas, ballads, and sometimes swift up-tempos" says Ken Greves.
"Vintage & Rare: The Songs of Harold Arlen "Ridin' on the Moon Vol. 3" has a street date of October 20, 2020 and will also be featured on The Not Jazz Network for the week starting on October 19-25, 2020. (http://www.notjustjazznetwork.com/).
The CD release event will be live-streamed on October 20, 2020, at 7:00PM from the Brooklyn Soapbox Gallery, an Arts Space https://www.soapboxgallery.org.
The magnitude of this historical project is a widely ambitious undertaking, hence creating a crowdfunding campaign to assist in completing this goal. (http://gofundme.com/f/the-harold-arlen-project)
"The main goal is to keep the intimacy of the jazz trio. In this way, Greves hopes to achieve consistency in the project. "I plan to use additional musicians, where needed, to enhance the arrangements. I have the commitment of Raul da Gama to do the liner notes for all of the remaining CDs. The setlist of songs for the seven remaining CDs has been sketched out as well as the budget" says Greves.
"Arlen has been celebrated in retrospectives by Ella Fitzgerald, Rosemary Clooney, Peggy Lee and other legendary vocalists but these tributes were limited; the breadth and depth of his writing demand a much larger scope, one that no other singer has attempted. By recording a series of ten CDs over time, I will be able to include songs both familiar and rare, classic and novelty, touching upon Broadway, Hollywood, nightclubs, radio, and even the concert hall.  The songs which have lasted because of the composer's profound humanity, integrity, and artistic depth, capture the sound of America, as well as any of the other major composers, maybe even more so. Arlen was a man who was clearly touched by genius. This is a labor of love, and my hope is that it will be the legacy of which I will be most proud." ~ Ken Greves
In tandem with the launch of a new CD, Greves streamlined the features of his musical journey which includes a personal blog and poetry writings, sharing just another piece of his contributions to the industry of music on his new website at http://kengreves.com.
Besides being a singer, Ken consults with artists providing a service that specializes in designing business accounting, reporting, and organizational planning, as well as assisting singers in designing a show or a CD and providing a plan of executable action.
"Ken Greves exudes the essence, style and musical class with his latest rendition of Harold Arlen's tunes on his 5th CD "Vintage & Rare: The Songs of Harold Arlen "Ridin' on the Moon" Vol. 3. His passion to complete this historic project is beyond measure. We know that his crowdfunding campaign will compliment his efforts and integrity to the music" says Jaijai Jackson, creator of the Not Just Jazz Network.
Be sure to check Ken's feature out at http://notjustjazznetwork.com on October 19th, 2020 as well as the official website at http://kengreves.com.
"Vintage & Rare: The Songs of Harold Arlen "Ridin' on the Moon" Vol. 3 and individual songs are available for download at http://kengreves.com as well as iTunes, Amazon, CDBaby and all major music streaming sites. 
##
Follow Ken Greves social media:
Twitter: http://twitter.com/KenGreves
Facebook Fan Page: https://www.facebook.com/KenGrevesFanPage/?ref=page_internal
Linkedin: https://www.linkedin.com/in/kengreves/
Instagram: https://www.instagram.com/ken.greves/