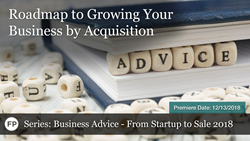 Join this panel of experts as they provide insight and advice on expanding a business by acquisition.
CHICAGO (PRWEB) December 12, 2018
Great startups may fail for any number of reasons. Perhaps the founders are great at certain critical functions but fall down on others. Perhaps funding is simply inadequate, though that too may be traced back to a lack of experience and expertise with respect to a specific area (in this case, the finance function). Regardless of the reason for failure, the fact is that it is very difficult to turn a product or service into a business is hard, often because the creative entrepreneur with the great idea does not have the same level of skill, training, experience, and passion in the other critical areas required to turn the idea into a successful company.
There are many decisions that are critical to the success of the business, some of which naturally fall outside the expertise of the entrepreneur. Direction around items like attracting and retaining key people, accounting and finance, and being able to negotiate various contracts can make or break a young company. This Financial Poise BUSINESS ADVICE – FROM START UP TO SALE 2018 webinar series will provide the information necessary to make these critical decisions.
The fourth and final episode of the series, Roadmap to Growing Your Business by Acquisition, airs on December 13th at 2:00 PM CST (Register Here) and features Moderator Michael Schwarzmann, an advisor to companies in transition. He is joined by Jonathan Friedland of Sugar, Felsenthal, Grais, and Helsinger, Jay Reilly of Saul Ewing Arnstein & Lehr LLP, and Jack Weinstein of Avalon Net Worth.
You have identified a complementary product or service that your customers want, produced by a company that seems to offer your business potential synergies. A combination with this other business (the "target") may make sense. What is the best way to approach the target? What are the steps needed to fully evaluate the target? Do you need audited financials? Are there key employees, relationships, or customers you must make sure stay in place? What is the appropriate negotiating strategy? If you can acquire the target, what will the integration plan be to fold the new business into yours, and what if you don't achieve the synergies and pro forma adjustments you think you can? This webinar will help you be ready for your first (or next) acquisition.
The BUSINESS ADVICE – FROM START UP TO SALE 2018 webinar series is produced by Financial Poise.™ All episodes premiere live through West LegalEdCenter and then are made available on-demand.
As with every Financial Poise Webinar, each episode is delivered in Plain English understandable to investors, business owners, and executives without much background in these areas, yet is also valuable to attorneys, accountants, and other seasoned professionals. And, as with every Financial Poise Webinar, each episode brings you into engaging, sometimes humorous, conversations designed to entertain as it teaches. Each episode in the series is designed to be viewed independently of the other episodes, so that participants will enhance their knowledge of this area whether they attend one, some, or all episodes.
About Financial Poise™
Financial Poise™ has one mission: to provide reliable plain English business, financial and legal education to investors, private business owners and executives, and their respective trusted advisors. Financial Poise™ content is created by seasoned, respected experts who are invited to join our Faculty only after being recommended by current Faculty Members. Our editorial staff then works to make sure that all content is easily digestible. Financial Poise™ is a meritocracy; nobody can "buy" her way onto the Financial Poise Faculty.™ Start learning today at https://www.financialpoise.com/.