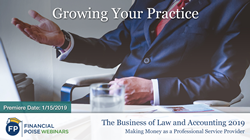 Learn how to transition from servicing work to bringing in work from our panel of industry experts.
CHICAGO (PRWEB) January 15, 2019
At a time when we are bombarded with news and information about the uncertainties of the economy, successful sales professionals (rainmakers) rest in comfort and confidence knowing that their success is not beholden to the ups and downs of the marketplace.
This Financial Poise THE BUSINESS OF LAW & ACCOUNTING 2019- MAKING MONEY AS A PROFESSIONAL SERVICE PROVIDER series identifies essential Rainmaker Best Practices, that when focused on with discipline and intention, distinguish you and your firm, and help you gain a competitive sales advantage. These episodes focus on WHAT works in any market and HOW to implement the best practices to impact your business with increased revenue, increased leverage of time and resources, and improved accuracy and predictability in your sales pipeline- - all while managing your practice so that your level of service to your clients does not suffer.
The first episode of the series, Growing Your Practice, airs on January 15th at 1:00 PM CST (Register Here) and features Moderator Adam Schlagman of American Lawyer Media. He is joined by Holly L. Barocio of GrowthPlay, Jonathan Friedland of Sugar, Felsenthal, Grais, and Helsinger and Richard K. Hellerman of The Law Office of Richard K. Hellerman.
Grow or Die. A common adage, yet elusive in both the WHAT and HOW to grow profitably. You have the skills, knowledge, and experience to deliver to clients. Now all you need is (more) clients. How do you transition from servicing work to bringing in work?
In this webinar, we discuss the essential building blocks for sustained and scalable growth that leverages marketplace and voice of the client research. We also identify how target marketing, messaging, networking, and relationship building tactics create predictability in lead generation through clients, prospects, connectors, and alliance partners.
The BUSINESS OF LAW & ACCOUNTING 2019 webinar series is produced by Financial Poise.™ Other episodes in this series include "Legal Tech" airing on February 12th and "Your Niche and Your Brand" airing on April 9th. Each episode airs at 1:00 PM CST. All episodes premiere live through West LegalEdCenter and then are made available on-demand.
As with every Financial Poise Webinar, each episode is delivered in Plain English understandable to investors, business owners, and executives without much background in these areas, yet is also valuable to attorneys, accountants, and other seasoned professionals. And, as with every Financial Poise Webinar, each episode brings you into engaging, sometimes humorous, conversations designed to entertain as it teaches. Each episode in the series is designed to be viewed independently of the other episodes, so that participants will enhance their knowledge of this area whether they attend one, some, or all episodes.
About Financial Poise™
Financial Poise™ has one mission: to provide reliable plain English business, financial and legal education to investors, private business owners and executives, and their respective trusted advisors. Financial Poise™ content is created by seasoned, respected experts who are invited to join our Faculty only after being recommended by current Faculty Members. Our editorial staff then works to make sure that all content is easily digestible. Financial Poise™ is a meritocracy; nobody can "buy" her way onto the Financial Poise Faculty.™ Start learning today at https://www.financialpoise.com/