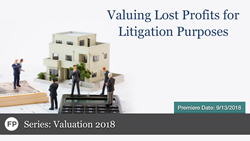 Learn strategies to measure lost profits and find out how to present and prove your damages in court.
CHICAGO (PRWEB) September 11, 2018
What's it worth? Whether you are engaged in the sale of an asset or attempting to recover damages in litigation, valuations are often necessary for convincing the other side that your price is right.
In transactions, valuations assist parties in determining the price they are willing to pay or receive in the sale of a security, business, or asset.
In litigation, valuations play a critical role in setting a baseline for damages awards. Expert assistance is required to accurately value many assets, whether it is a business, a security, an intangible asset such as intellectual property or a brand, or lost profits in a litigation context. Choosing the appropriate valuation expert can make or break your transaction or your case, given the extensive battles between valuation experts that arise in contested matters.
This Financial Poise VALUATION 2018 webinar series provides an overview of valuation in its many contexts, from business valuations in transactions to battles between valuation experts in all aspects of litigation.
The second episode of the series, Valuing Lost Profits for Litigation Purposes, airs on September 13th at 10:00 AM CST (Register Here) and features Moderator Kathryn Nadro of Sugar Felsenthal Grais & Helsinger. She is joined by Richard Claywell of The Office of J. Richard Claywell CPA, David Duffus of Baker Tilly, and Gary Frantzen of Alvarez & Marsal Holdings, LLC.
When a competitor, contractor or other third party damages your business, you lose profits. When you engage in litigation to recover those lost profits, how do you measure them? How do you prove those lost profits with certainty to a judge or jury? How far back in the past or how long into the future can you project those lost profits? All these questions and more are addressed in this webinar, along with an overview of the various methods to measure lost profits and strategies to present and prove your damages in court.
The VALUATION 2018 webinar series is produced by Financial Poise.™ Future episodes in the series include "Selecting the Right Valuation Expert," airing on October 11th, "Minority and Illiquidity Discounts," airing on November 15th, and "Valuing Your Brand and Other "Soft" Assets" airing on December 13th. Each episode airs at 10:00 AM CST. All episodes premiere live through West LegalEdCenter and then are made available on-demand.
As with every Financial Poise Webinar, each episode is delivered in Plain English understandable to investors, business owners, and executives without much background in these areas, yet is also valuable to attorneys, accountants, and other seasoned professionals. And, as with every Financial Poise Webinar, each episode brings you into engaging, sometimes humorous, conversations designed to entertain as it teaches. Each episode in the series is designed to be viewed independently of the other episodes, so that participants will enhance their knowledge of this area whether they attend one, some, or all episodes.
About Financial Poise™
Financial Poise™ has one mission: to provide reliable plain English business, financial and legal education to individual investors and private business owners. Financial Poise™ content is created by seasoned, respected experts who are invited to join our Faculty only after being recommended by current Faculty Members. Our editorial staff then works to make sure that all content is easily digestible. Financial Poise™ is a meritocracy; nobody can "buy" her way onto the Financial Poise Faculty.™ Start learning today at https://www.financialpoise.com/