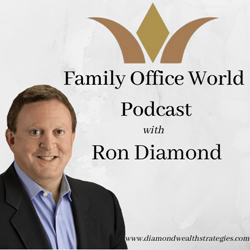 I've been working on delivering the best possible Family Office podcast for almost a year. I hope you'll agree that all of the hard work has paid off.
CHICAGO (PRWEB) November 18, 2019
Financial Poise™ is pleased to congratulate Ron Diamond, Chair of the Family Office Advisor, a Financial Poise™ editorial board, and Founder/CEO of Diamond Wealth Strategies, on his newest venture, "Family Office World," a podcast devoted to educating listeners about the intricacies of family officers.
Diamond, who hosts "Family Office World," will examine family offices generally, and cover more specific topics such as best practices for family offices, differences between family offices, the value of working with a family office, and the many ways in which a service provider may tap into the family office ecosystem.
Diamond's overarching goal in launching "Family Office World" is to help Family Offices become more institutionalized and connected with each other. Additionally, Diamond hopes the podcast will assist service providers in identifying ways to add value to their offerings, allowing them to better serve Family Office clientele.
You may subscribe to "Family Office World" on iTunes or your favorite podcast app.
ABOUT DIAMOND WEALTH
Diamond Wealth is a boutique financial services firm that offers a comprehensive suite of advisory services catering to the unique needs of family offices, ultra-high net worth individuals, and business owners.
ABOUT FINANCIAL POISE™
Financial Poise™ has one mission: to provide reliable plain English business, financial and legal education to individual investors and private business owners. Financial Poise™ content is created by seasoned, respected experts who are invited to join our Faculty only after being recommended by current Faculty Members. Our editorial staff then works to make sure that all content is easily digestible. Financial Poise™ is a meritocracy; nobody can "buy" her way onto the Financial Poise Faculty.™ Start learning today at https://www.financialpoise.com/