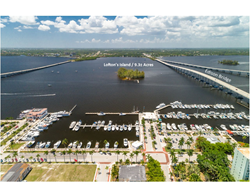 "For close to 15 years, the Gates Organization has been associated with "Lofton's Island," a private island located in the heart of Fort Myers with easy access to the Gulf of Mexico. With its strategic location, the island is an integral part of the Fort Myers waterfront... - Todd Gates
FORT MYERS, Fla. (PRWEB) June 02, 2020
Fisher Auction Company and One Sotheby's International Realty are pleased to present via an ABSOLUTE Auction a 9.3± Acre Private Island.
"For close to 15 years, the Gates Organization has been associated with "Lofton's Island," a private island located in the heart of Fort Myers with easy access to the Gulf of Mexico. With its strategic location, the island is an integral part of the Fort Myers waterfront. Since it is such a valuable and truly unique asset to our community, the decision has been made to offer this rare and exclusive piece of real estate at Auction and let the world compete for it! We remain committed to help develop and nurture such a special amenity to its highest and best use for the City of Ft. Myers and the entire Lee County community." - Todd Gates
Lofton's Island was previously offered at $5.9 Million and will now be sold to the highest bidder with "No Minimum or Reserve". The Absolute Auction will be conducted Online beginning July 21st through July 23rd on Fisher Auction Company's exclusive bidding platform and Mobile App.
The Private Island boasts a total of 9.3+/- acres with 3.4+/- acres of upland. Centrally located on the Caloosahatchee River which provides easy access to the Gulf of Mexico, Atlantic Ocean and Pristine white sand beaches of Sanibel Island and Captiva. With a $2 Million Dollar Directional Boring Line in place, approval for 30 Boat Slips and 1 Berge Landing, the Island is ready for development.
About Fisher Auction Company
A family-owned business founded in 1967 and based in Pompano Beach, FL, Fisher Auction Company is comprised of highly trained and skilled individuals with backgrounds in auctioneering, real estate, development, finance, accounting, law, appraising, banking, sales and marketing. The firm is dedicated to a superior code of ethics with the highest degree of professionalism whose reputation has and continues to be built on handling one successful sale and auction at a time.
About One Sotheby's International Realty
Spearheaded by Miami real estate agent Mayi de la Vega, ONE Sothebys International Realty was founded in December 2008. Building on a reputation for emphasizing experience, reputation and passion to its customers, qualities that define the Sothebys International Realty brand, the company has now quickly grown to 18 offices between Miami-Dade, Broward, Palm Beach, Treasure Coast and Brevard Counties with more than 900 top producing agents.
For media information: Lamar Fisher, Fisher Auction Company, (754) 220-4113.