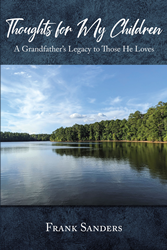 MEADVILLE, Pa. (PRWEB) January 12, 2023
"Thoughts for My Children: A Grandfather's Legacy to Those He Loves": an enjoyable and heartwarming message for the generations to come. "Thoughts for My Children: A Grandfather's Legacy to Those He Loves" is the creation of published author Frank Sanders, a retired Air Force officer and test program manager who lives in Niceville, Florida, with his wife, Allison, near his children, nieces and nephews, and their children. As a Wild Weasel, United States Air Force rated officer, flight instructor, and master navigator, Sanders has two thousand hours of flight time in the F-4 Phantom and additional experience in the F-15, F-16, F/A-18, the Tornado, and the E-3 aircraft.
Sanders shares, "My purpose in writing this short book is to share my thoughts with my loved ones, especially the children in my life. I hope these words will be a lasting legacy to my children and grandchildren as they grow up and after I am gone.
"None of these thoughts are original or insightful. They are simple truths and ideas. But young people seldom take the time to sit down and think about basic things. As people like me get older, we see young people make mistakes or suffer or destroy relationships and friendships over simple and obvious issues. I have often looked back and wished I had made some small things part of my approach much earlier in my life. I still often wish I could impart some time-gathered wisdom to my children and grandchildren to smooth their path, allow them to avoid mistakes, and give them a long-term perspective in this short-term, short-sighted world. This book is my effort to share some of what I have learned.
"These short chapters are not an exhaustive examination of the topics under discussion. Rather they are straight to the point and simple as a grandfather would make the point to a young person who is not excited about sitting down for a long discussion about 'meaning of life' issues with Granddad. I hope the young people who read these words will get the gist. For those who need more depth, hopefully, these words will get the discussion started.
"I plan to share this book with my grandkids. I hope it will be of interest to them. But just as important, I hope this book will be read and appreciated by many grandparents who love their grandchildren. Maybe my words will give them a chance to have a short discussion with their own loved ones. They can share all or some of the points as they see fit. They can share my thoughts and add to them their own take. If they agree with me, this may be an easy way to share some truth and advice. If they disagree, this will be a good place to begin the conversation.
"I pray that once the habit of discussion with their grandchildren is established, they can share other thoughts that are important to them."
Published by Christian Faith Publishing, Frank Sanders's new book will tug at the heartstrings and encourage the spirit as readers reflect on the carefully presented thoughts within.
Sanders shares in hopes of offering a lasting connection with his loved ones and the loved ones yet to be born.
Consumers can purchase "Thoughts for My Children: A Grandfather's Legacy to Those He Loves" at traditional brick & mortar bookstores, or online at Amazon.com, Apple iTunes store, or Barnes and Noble.
For additional information or inquiries about "Thoughts for My Children: A Grandfather's Legacy to Those He Loves," contact the Christian Faith Publishing media department at 866-554-0919.