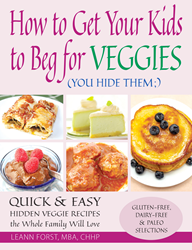 By learning to sneak additional nutrients into your recipes, picky eaters become a thing of the past and dinnertime becomes a genuinely enjoyable ritual.
DALLAS (PRWEB) April 30, 2015
Author and nutrition expert Leann Forst has launched her new, cookbook "How to Get Your Kids to Beg for Veggies: Quick & Easy Hidden Veggie Recipes the Whole Family Will Love" on Amazon.com. Forst, a board certified holistic health practitioner, developed the book to help parents find healthy, sensible and easy-to-prepare meals and snacks that their families will actually enjoy.
Forst says children's bodies need a foundation of health that comes from the nutrients gained from vegetables. Unfortunately, many parents face obstacles to putting healthy meals on the table every day, or finding healthy foods that will please the family's picky eaters. With her "Quick and Easy" cookbook, she lifts the burden off parents who want to feed their family nutritiously, without the hassle of complicated and time-consuming preparation.
Forst's book addresses important discoveries regarding the impact of today's standard American diet (S.A.D.) and the proven increase in risk factors that diet can play in many serious health issues: asthma, ADHD, obesity, cancer, heart disease, stroke, digestive disorders, autism and more. According to Forst, many childhood illnesses have a distinct dietary common denominator: meals based on processed foods, high in saturated and hydrogenated fats and low in fiber.
Americans have depended on the convenience of processed foods for decades, so it takes a concerted effort to exchange S.A.D. eating habits for healthy and nutritious alternatives.
"There is a connection between diet and the rising numbers of childhood illnesses such as ADHD, autism, allergies and asthma," Forst says. "This book offers quick and easy solutions to the challenge of increasing dietary nutrients in the foods you serve to help boost children's immunities to disease."
The colorful and fun cookbook provides a variety of eye-opening "tricks" for disguising healthy ingredients in the foods children enjoy. By hiding vegetable baby food, mixing in organic fruit and vegetable powders, and mastering other nutritional sleights of hand, Forst teaches parents how to create recipes that are healthy and can please the whole family—even the pickiest eaters.
Some of the mouth-watering recipes included in Forst's cookbook are: Creamy Pumpkin Oatmeal; the Best Beet Gingerbread Muffins; Easy Pumpkin Pasta Casserole; Savory Turkey Veggie Meatballs; Secret Ingredient Mac & Cheese Cups; Super Sloppy Joes; Sweet Potato Brownies; Banana Lime Cream Pie and more.
Forst became a nutrition expert in response to her 2-year-old son's battle with chronic asthma. Feeling helpless after a revolving door of physicians and medications failed to improve his condition, she became determined to find answers to her little boy's health problems on her own.
Forst eventually discovered that his weakened immune system was unable to heal because of the foods the family was eating. She learned about the toxic nature of processed foods and how antioxidants, natural nutrients and phytochemicals work to help the body's immune system heal and maintain a healthy balance. Armed with this new understanding of diet and nutrition, Forst set about making major changes in planning her family's meals.
One obstacle she hadn't planned on was the challenge of addressing the picky eating habits her son had developed. Forst had to get creative to include vegetables and other nutrient sources into her son's meals. By camouflaging nutrients in his favorite foods, she succeeded in helping her son shed his asthma and become a healthy, happy active youngster.
To learn more about how to get kids to beg for veggies, visit the author's website at http://www.groovybeets.com, visit the book's Amazon.com page, email Leann@GroovyBeets.com or call (214) 673-4788.
About the Author:
Leann Forst, MBA, CHHP, is a board certified holistic health practitioner. Forst received a Bachelor of Science degree from Upper Iowa University and a Master's degree from Drake University then went on to study over 100 dietary healing theories at the Institute of Integrative Nutrition, the world's largest nutrition school. In 2014, she authored "100 Ways To Lose Weight: Proven Methods From Worldwide Experts." In the fall of 2015, Forst will speak at Medical City Hospital Dallas to teach school nurses how to support families dealing with ADHD, asthma, allergies and autism. Forst is a principal in Groovy Beets Natural Family Health, providing wellness programs to individuals and organizations.
###