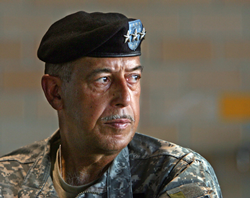 SANTA MONICA, Calif. (PRWEB) January 19, 2023
TerraScale Inc., a five-time award-winning green development, infrastructure and finance firm formed with the goal of accelerating the transition to a more sustainable planet today named former U.S. Army LT General Russel Honoré (Ret.), known as "The Ragin' Cajun", as Chairman of the Advisory Board.
Honoré brings with him more than three decades of senior leadership in the United States Military, as well as vast expertise in government relations and ESG. Honoré recently, at the request of the Speaker of the House, led Task Force 1/6 Capitol Security Review to improve Capitol security following the attacks on January 6, 2021. As the Commander of Joint Task Force Katrina, he became known as the "Category 5 General" for his leadership in coordinating military relief efforts in post-hurricane New Orleans.
"Gen. Honoré is a renowned American hero, a prominent military veteran and outspoken environmental activist whose initiatives have been seen on the global stage. His expertise, relationships and vision make him an extremely valuable addition to our company," said Danny Hayes, TerraScale co-founder and CEO. "We are sincerely honored to have such a decorated and experienced leader join the TerraScale team."
TerraScale is implementing national and regional-level infrastructure and digital transformation plans and projects aimed at transforming the digital and physical security landscape through edge computing, fiber, cybersecurity, sovereign cloud, satellites, green power and more.
At TerraScale, Gen. Honoré's primary responsibilities will include strategic advisory and support of TerraScale's national and regional level infrastructure plans. He will provide guidance, strategic alliances and partnerships while providing insight for TerraScale's global initiatives.
"The threat of climate change grows ever more daunting as emissions levels continue to climb. Tackling our planet's growing climate crisis requires a coordinated, comprehensive effort as well as the commitment and collaboration between government and industry," Gen. Honoré said. "Under TerraScale CEO Danny Hayes' leadership, TerraScale has developed a comprehensive plan for large-scale global deployment of green infrastructure projects that will further climate transition goals. I am looking forward to advising the TerraScale team to make these initiatives a success."
LT General Russel Honoré is a decorated 37-year army veteran and a global authority on leadership, disaster management, and climate preparedness. He knows that the future of our national security depends on protecting our environment, and he's fighting for a brighter future for us all. A Louisiana native, he founded the GreenARMY, a coalition of environmental experts and advocates, to protect against pollution while fighting climate change and the natural disasters it causes. During his military career, General Honoré held numerous commands, including Vice Director for Operations for the Joint Chiefs of Staff and Commander of the Standing Joint Force Headquarters-Homeland Security.
About TerraScale
TerraScale is a green technology and infrastructure development company reinventing the future of global sustainable development models. TerraScale places green energy, digital infrastructure and cybersecurity at the center of its infrastructure projects and solutions. Bringing together the best-in-class partners and service providers across technology, green engineering, cybersecurity, real estate, energy, construction firms and more, TerraScale modernizes businesses and communities around the world - creating solutions and infrastructure that are future-proofed. TerraScale's Project Energos is the winner of five prestigious design and architecture awards.
For more information, visit https://terrascale.org.