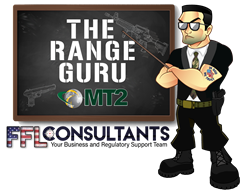 ARVADA, Colo. (PRWEB) December 09, 2020
The event included a special keynote presentation: "The Important Role FFLs Play in Protecting Themselves and Their Communities" from Thomas L. Chittum III - Assistant Director of Field Operations - Bureau of Alcohol, Tobacco, Firearms, and Explosives (ATF)
Topics also presented include:

"Being Prepared" Means Much More than Just Completing a Checklist – It Requires Time-Sensitive Updates, Professional Support, and Access to Intelligent Guidance for Critical Long-Term Survival"
Presented by FFL Consultants

"Firing Range Construction, Expansion and Design-Build Considerations"
Presented by James Barthel - CEO - MT2 Firing Range Services

"Insurance Questions & Risk Mgmt. FFL's Need to Know and Have In Place During Challenging Times"
Presented by Jeff Hewitt - SVP, Lockton Affinity

"Hot Topics Firearms Industry Employers Need to Know About During Times of Crisis"
Presented by Wendy Christie - Owner -Employer ESource

"Critical Gun Range Lead Waste Management Requirements"
Presented by Rob Anderson - VP- MT2 Firing Range Services

"Open Dialogue Discussing the Effects of the Biden/Harris Administration on the Firearms Industry"
Presented by Joseph Kavan - Partner, Kutak Rock
Those interested in viewing the replay can visit: http://www.MT2.com or http://www.FFLConsultants.com
About MT2 Firing Range Services:
MT2 specializes in providing environmental gun range cleaning and firing range services, and lead remediation for all your indoor and outdoor firing range service needs including:

Lead cleaning services,
Lead reclamation & Brass recycle
Range Maintenance, HVAC systems support
Consulting and Assessment by our OSHA/EPA experts!
Range Construction and Renovation
Lead Remediation & Abatement
We operate from regional offices across the country and always pay the highest value for range lead guaranteed!
Learn More: https://www.MT2.com
About FFL Consultants:
FFL Consultants is a specialty consultant group focusing exclusively on supporting firearms retailers, range operators, manufacturers, distributors, and importers. Our experts possess many decades of experience with ATF/OSHA regulatory compliance and the big-box sporting goods retail sector. Over the last 7 years FFL Consultants has grown from presenting at various firearms industry training and educational events sponsored by the National Shooting Sports Foundation, the ATF and FBI/NICS, to providing time-sensitive support to more than 10,000 FFLs nationwide. When it comes to supporting our FFL community, no question is too trivial and no project too difficult.
We've "been there done that" many times over and stand ready to help you with your everyday needs as well as your next challenge!
We stand ready to support you and your FFL business 24/7!
Learn More: https://www.FFLConsultants.com