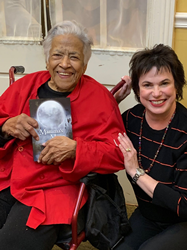 "Mamma's Moon does for Acadiana what Truman Capote did for Tiffany's or Tennessee Williams did for streetcars...the very special world of today's Louisiana French Acadians." - Tom Hyman, a writer for LIFE Magazine, Washington Post Book World and New York Magazine.
NEW YORK (PRWEB) January 17, 2019
For the truth about Creole culture Antil turned to honest, reliable sources, one was non-other than Leah Chase, who he calls the Soul of America. Leah Chase made herself available on several occasions. For his court scenes, Antil turned to Louisiana's Criminal District Court for help and heard from the best of them thanks to openly outspoken Judge Laurie A. White who the author says is the very Heart of every danged thing America's backbone should be.
As much as for the table she sets, New Orleans icon, Leah Chase, is noted for ignoring Jim Crow laws from the very day she first lifted a gumbo ladle back in 1946. Blacks couldn't, by law, get a hotel room or eat with whites in New Orleans' restaurants at the time. Well, by God and Lady Justice, that was just not so at the Dooky Chase restaurant. Leah and her husband risked life and liberty and turned a blind eye to the law and fed all who came. Civil rights activists like Martin Luther King, homerun king, Hank Aaron, negro jazz greats like Duke Ellington, Nat King Cole, Pearl Bailey and so many others all seated at tables and noshing under the same roof with whites - presidents, supreme court justices, governors, mayors, policemen and local business leaders.
Judge Laurie A. White, another of Louisiana's treasured icons, stepped up for Antil, as well, to get answer to his questions about area law for his novel's tense trial scenes by asking attorneys for volunteers to help a novelist research relative court procedure so it could be portrayed accurately. Criminal attorney Lindsay Jay Jeffrey stepped up to the bar. Judge White also invited Antil to sit and witness courtroom and chamber in action.
"Leah Chase embodies the very soul of America, in every sense. Judge Laurie A. White, forthright and 'give-a-damn' caring for New Orleans, a good example for America's heart. We could all learn from them both," Antil said. "I certainly have."
https://www.dropbox.com/s/hvc6xevratg6t61/MammasMoon.mp4?dl=0