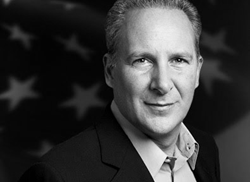 It's going to be a big, rude awakening for a lot of Americans. You know, the Americans that had the foresight to get rid of a lot of their dollars and own gold – that's going to preserve its value. The dollar won't.
Burbank, CA (PRWEB) July 29, 2014
In an exclusive interview with Birch Gold Group, world-renowned investment advisor and Euro Pacific Capital CEO Peter Schiff forecasts an impending dollar crisis that will have disastrous effects on Americans and the global monetary system.
Schiff, who famously predicted the collapse of the U.S. housing market and the ensuing global financial crisis, warns that the worst is yet to come.
"The real crisis hasn't even happened yet. [The dollar crisis] is going to be much more painful than a banking crisis. And in that environment, gold is going to shine a lot brighter than it did in the last crisis. And so the reasons to own it now are even more numerous than they were then," Schiff tells Birch Gold Group, the Burbank, CA-based precious metals company that helps investors protect their lifestyles with a variety of physical gold and silver assets, as well as Precious Metals IRAs.
In the years leading up to the financial collapse of 2008, Schiff cautioned that actions by the U.S. government were in fact the root cause of the problem. In the years since, the government has exacerbated those problems even further, he says.
"Everything that the Federal Reserve has done – everything that the government has done – since the financial crisis of '08 has just made the problems that they were trying to solve worse," Schiff says.
"The United States' shaky economy, rising debt and misguided policies, such as FATCA, are among a myriad of factors that "further undermines the desirability of owning dollars or U.S. financial assets, U.S. stocks," Schiff says.
"The dollar became the world's reserve currency because we dominated the world financially, economically. We don't do that anymore. We're not the world's biggest creditor, we're the world's biggest debtor. We have huge trade deficits, not huge trade surpluses. We're bankrupt as a nation." he says. "The world tried to maintain the dollar at the center of the monetary system and it won't be at the center much longer. And the question is, what's going to take its place? And again, that brings me back to gold."
Schiff warns that the dollar's collapse is going to be "a big, rude awakening for a lot of Americans," which is why he's a strong advocate of investing in gold, silver and "anything the central banks can't print."
While other currencies, such as the Euro or the Yen, may be in better shape than the dollar, they are still flawed, Schiff maintains, and the world will not be ready to accept them as a global currency. Schiff sees gold as not only a critical hedge against the dollar's collapse, but also as an opportunity.
"People should buy gold while it's still cheap," he says. "Because when gold is remonetized, when it's once again at the center of the monetary universe, when countries are holding gold reserves as opposed to dollar reserves ... Central banks have a lot of gold to buy and the price only has one way to go, and that's up."
The full audio and transcript of Birch Gold Group's exclusive interview with Peter Schiff can be found on the Birch Gold website: http://www.birchgold.com/peter-schiff-interview-dollar-gold
For more information on Birch Gold Group or its precious metal investment options, please call (800) 355-2116 or visit http://www.birchgold.com.
About Birch Gold Group
Birch Gold Group, a national dealer of precious metals, helps Americans protect their savings with investments in physical gold and silver. Clients can do this by taking physical possession of metals or by moving an existing IRA or 401(k) to an IRA backed by precious metals. Birch Gold Group maintains an A+ Rating with the BBB, a 5-star rating with Trustlink.org and is the only precious metals dealer that is a member of the Retirement Industry Trust Association (RITA).
About Peter Schiff
Peter Schiff is an acclaimed investment advisor, financial commentator and CEO/Founder of Euro Pacific Capital. Best known for his predictions, he is also the bestselling author of "Crash Proof: How to Profit from the Coming Economic Collapse," published by Wiley & Sons in February of 2007. Schiff has been quoted and featured in numerous prominent U.S. publications, including The Wall Street Journal, Barron's, Investor's Business Daily, The Financial Times, The New York Times, The Los Angeles Times and The Washington Post. He also appears regularly on CNBC, CNN, Fox News, Fox Business Network, and Bloomberg.