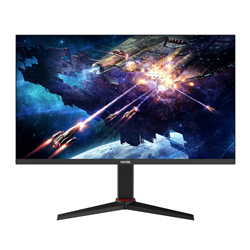 "Viotek strives to bring extreme value to the market. Our goal is to make high-performance gaming products accessible to a wider audience. We always use Grade A panels and components. For this reason we can offer a full three year zero dead pixel guarantee. V 4Victory." - Brett Barbour, VP
SOUTH BEND, Ind. (PRWEB) April 14, 2020
The GFT27CXB by Viotek® offers a 240Hz refresh rate for extremely smooth and buttery motion graphics, a 1ms response time for lag-free gaming, and all on a widescreen (16:9) TN panel with an impressive 99% of the sRGB color gamut. By far the fastest refresh rate on the market, our 240Hz monitor unleashes the full power of PC, bringing unparalleled fluidity to games — especially CS:GO, PUBG or Fortnite titles.
Follow the action on Facebook, Instagram, Twitter!
In addition to an impressive spec list, the GFT27CXB also features the Viotek Gaming suite including user-accessible overdrive (5ms wo/OD, 1ms w/OD), GAMEPLUS targeting cursors, AMD FreeSync™-ready, G-sync ready, RTS/FPS optimized gaming modes, anti-glare screen coating, low blue light mode, and specific pre-set gaming modes.
Thanks to AMD FreeSync™ with LFC (low framerate compensation) you can expect smoother motion with all your games, across the entire refresh range up to 240Hz — even when the framerate falls below 48Hz. The adaptive algorithm adjusts the refresh rate to smooth out jerkiness from sudden drops in the framerate. This not only helps with faster, motion-heavy games but also during the quieter, slower moments in the game, giving you a solid mix of smoothness and clarity. Say goodbye to ghosting and motion blur — forever.
The FHD 1080P resolution meets minimum requirements for spec-focused hard-core gamers. The GFT27CXB even supports HDR to ensure games, movies media, and office-work have accurate and perfect color representation, the way developers and directors intended.
The 1M:1 Dynamic contrast and 1000:1 contrast ratio ensure blacks are dark and whites are pure. The GFT27CXB features extreme flexibility with dual VESA compatibility (100mm and 75mm), Dual Freesync-ready HDMI ports (1x 2.0, 1x 1.4), a G-sync/Freesync capable 1.2 DisplayPort, as well as a 3.5mm audio jack; ready for headphones or to plug into the premium audio sound system of your choice (no speakers). The rear of the GXT27CXB features a multi-color RGB display (on/off only).
The GFT27CXB is also ready for multiple gamers with individual user profiles. Prefer more or less contrast or super-saturated reds? Simply save a personal profile to one of three available user-customizable presets (new to the Viotek product line).
Like all Viotek monitors, the GFT27CXB is backed by a 3-year limited warranty and Viotek's best-in-market Dead Pixel Policy. The GFT27CXB is on sale for $289.99 ($322.00 MSRP) respectively and is available now through Viotek.com, Amazon.com, and select retailers.
ABOUT VIOTEK®
Viotek is a different kind of tech company. Built on an unwavering will to innovate, Viotek is dedicated to making the best products at the best price for technology enthusiasts worldwide. With an imaginative research and development team and the resources to bring ideas to life, Viotek is committed to never follow but always lead. Viotek: V 4Victory.