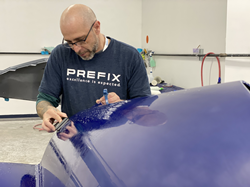 Entrepreneurs and innovators don't have the patience to sit around hoping things will get better some day.
ROCHESTER HILLS, Mich. (PRWEB) May 27, 2020
While the Coronavirus outbreak has forced thousands to line up for unemployment, we hear a lot about large organizations within the delivery and online retail space hiring massive numbers of employees. However, most economic experts agree that we need to pay closer attention to small business, as it represents the engine of America's economy. U.S. small businesses make up approximately 60% of the country's total workforce.
With the current economic challenges and the enormous level of unemployment, it is encouraging to learn about Prefix Corporation in Rochester Hills, Michigan hiring additional employees. The 40 year old company is in the business of supporting the Automotive, Aviation, and Entertainment industries with concept vehicles, prototypes, low volume manufacturing, and specialty projects. Industries that are historically hyper-sensitive to the ups and downs of the economy.
The executive team at Prefix understands the crisis will be known as a watershed moment. "Just imagine the decisions taking place in conference rooms across the globe right now," explains Prefix President, Eric Zeile. "Entrepreneurs and innovators don't have the patience to sit around hoping things will get better some day. They understand that emerging from this crisis with new designs, innovative technologies and attention-getting products will be crucial to strongly positioning themselves back into the market, and we're required to help them get there."
One area of growth for the company is in low volume manufacturing and high-end paint programs. "These manufacturing opportunities are attracting people far beyond Michigan that want to join our team," continued Zeile. "We are very fortunate to have experienced continued growth through all of this, and now helping a few more people get back to work."
Prefix will start the hiring process next week with multiple Career Days, beginning June 2nd. Candidates nationwide are asked to begin the application process online at:
http://www.Prefix.com/careers.