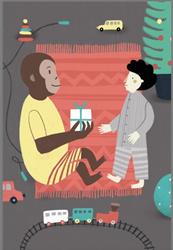 DELAND, Fla. (PRWEB) November 06, 2019
Robert Urban, CEO of Paperboat Media, a digital marketing agency, and a former Marine, is the author of four books. In Albert The Christmas Gorilla, Urban teaches sensitive, important lessons to children who spend the holiday season in two family homes. He crafted this classic tale based on experience with his own son, then six, for whom Albert's friendship and understanding was as a spoken bedtime story. Children readers meet Albert, who knows first-hand the difficulty—and wonder—of having two homes. The gorilla shares his story to ease childrens' anxiety of being left behind by an overburdened Santa. Little do they suspect that Albert is one of Santa's helpers and knows a thing or two about double deliveries. He imparts: "So if you should find yourself far from your home... remember this story and try not to fret, the Christmas gorilla will get to you yet." Urban has taken this simple, creative story and created a classic for both parents and children for generations to come.
Publication Date: October 4, 2019
Publisher: Createspace
For more about Robert Urban, please visit https://paperboatmedia.com/albert-the-christmas-gorilla/.
To purchase Albert The Christmas Gorilla, please visit Amazon at https://www.amazon.com/Albert-Christmas-Gorilla-Robert-Urban/dp/1793447993.
Contact Information
Name: Robert Urban, Author
Email: roberturban78@gmail.com
Address: 2315 Glenwood Plantation Rd, Deland, Fl 32720
Phone: 407-227-0741