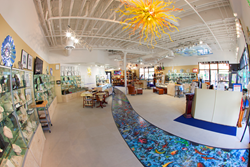 "I'm a CEO, a military officer & veteran, a husband, a father, and I'm seventy years old. This is the first and only jewelry store in my life where I can walk in, relax, and where I don't feel like I'm walking into a public place in my underwear, being scrutinized."
SACRAMENTO, Calif. (PRWEB) October 04, 2019
Talisman Collection Fine Jewelers has been named one of the eight "America's Coolest Stores" by InStore Magazine, the national print and digital publication for American jewelry stores. There are over 18,500 retail jewelry stores in the US.
Talisman Collection Fine Jewelers is a store that broke the mold for jewelry retailers in 2012. The layout of the store is uniquely inviting, spacious and free-range for guests to engage in every aspect of the customer experiential shopping experience. Following a business foundation and plan that is one of transparency in costs, ethical sourcing, sustainable ecological practices of fair trade, recycled metals, and even LEED compliant lighting, the company strives to keep pricing lowest in the industry while providing the finest available commodities of diamonds, precious gems, and precious metals to the public, mostly at 25% above wholesale cost, which is a far lower margin than traditional, online, big box and other jewelry stores charge. Given the capability to design, mold, model, cast and set on site, alongside an in-house gemological laboratory for appraisals and direct access to ethical mines and precious metal sources, the store is a very casual, inviting environment that "doesn't feel like a jewelry store," according to customers who previously held a dislike for jewelry stores. One customer often says about the store: "I've been a CEO, a military officer & veteran, a husband, a father, and I'm seventy years old. This is the first and only jewelry store in my life where I can walk in, relax, and where I don't feel like I'm walking into a public place in my underwear, being scrutinized." Talisman Collection Fine jewelers makes people feel comfortable and engages them in the process or refurbishing, designing, or acquiring future family heirlooms and gemological wonders of nature.
This Sacramento region jewelry retailer began business in California in 2008, relocating from Folsom to El Dorado Hills in 2012, the tail end of a horrible economic recession, during which, 38% of the independently owned and operated jewelry stores in the United States closed from 2008-2012.
Talisman Collection Fine Jewelers a full-service jewelry designer, manufacturer, repair center, appraiser, and retailer representing more than seventy local and global brands. Talisman has a Gemological Institute of America (GIA) gemologist and gemological lab on site, a master jeweler, and an American Gem Society (AGS) Guild store credential, which is a credential awarded to less than one percent of jewelry stores in the world. A certified woman-owned business, Talisman Collection Fine Jewelers has both a physical store in El Dorado Hills Town Center and an online eCommerce site, http://www.talismancollection.com
Talisman Collection Fine Jewelers is the only AGS Guild Jeweler in El Dorado County. Talisman Collection has also been voted "Best Jeweler" and "Best Jewelry Store", annually, by newspapers including The Mountain Democrat, The El Dorado Hills Telegraph, El Dorado Hills Village Life, and others for the past seven consecutive years, since opening their retail location in El Dorado Hills. Talisman Collection has been an AmEx Small Business® Champion for the past five consecutive years.
"America's Coolest Stores," 2019, is the 18th annual contest to award the best examples of jewelry retail stores in North America by InStore Magazine.
"Every year we feel privileged to bring our readers the best-of-the-best in our industry," says Trace Shelton, InStore's editor-in-chief. "We look for qualities like innovative marketing, top-notch client service, a creative retail environment and a unique work culture."
America's Coolest Stores® is judged in exterior appearance, interior appearance, store biography, marketing, web presence and overall individuality. Eight stores are awardees in the United States each year, voted from a panel of judges. Judges for America's Coolest Stores® each year are the editorial staff of InStore Magazine in addition to owners of other jewelry stores that were past winners, fine and couture jewelry designers and jewelry industry wholesale vendors.