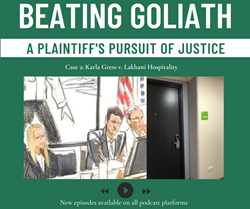 CHICAGO (PRWEB) December 06, 2022
The lawyers of Salvi, Schostok & Pritchard P.C. have released new episodes of the firm's official podcast, "Beating Goliath: A Plaintiff's Pursuit of Justice," which shares a behind-the-scenes look at some of the firm's biggest trials in history.
In October 2013, Karla Gress, a wife and mother from the Dallas, Texas area, traveled to the Chicago area on business and booked a room at the Holiday Inn-Northshore Skokie. One evening after work, Karla returned to her hotel and stopped at the lobby restaurant to grab a drink and a bite to eat while she wrapped up paperwork. Sometime after 9 p.m., Karla paid her tab and returned to her room. That's when her nightmare began.
It was revealed through a series of chilling revelations that Karla was sexually assaulted that evening by the hotel's on-duty security guard. To make matters unimaginably worse, her assailant was not criminally charged for the attack.
In the second season of Beating Goliath, Attorney Tara R. Devine and host Marcie Mangan share Karla's harrowing story of survival and her lengthy pursuit of justice in civil court against the hotel that should have protected her and other guests from harm.
The new episodes are available now on Apple Podcasts, Spotify, Stitcher, and wherever you get your podcasts. Subscribe to the show to learn how Karla ultimately overcame her nightmare to become an advocate for other victims of sexual assault and how her legal team navigated the many twists and turns of the legal system to provide Karla with justice.
For more information, please contact Podcast host Marcie Mangan at (877) 823-1433 or mmangan@salvilaw.com.