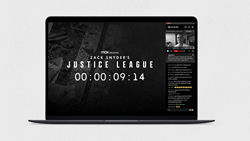 "I'm excited to finally share my vision for 'Justice League' in a virtual screening with our incredible fanbase who, through the power of community and an inspiring grassroots campaign, played a major role in making this premiere possible," said Director Zack Snyder
LOS ANGELES (PRWEB) March 11, 2021
Scener®, the watch party platform that synchronizes streaming entertainment with video chat, announced today a partnership with HBO Max® to host an exclusive fan watch party of "Zack Snyder's Justice League". Featuring a live video discussion with Snyder himself, fans can grab their virtual seats today for the 4pm PDT / 7pm EDT March 18 watch party by heading to snydercut.scener.com. An active HBO Max subscription is required to join the festivities, but there is no additional cost to participate in the watch party.
"I'm excited to finally share my vision for 'Justice League' in a virtual screening with our incredible fanbase who, through the power of community and an inspiring grassroots campaign, played a major role in making this premiere possible," said Director Zack Snyder.
Providing a virtual watch party destination custom-created for HBO Max and Snyder's film release, Scener will enable thousands of fans to gather for the interactive virtual event introduced by Snyder himself. Scener's video chat and messaging features will allow fans to hear first-hand insights on the journey to this exciting movie launch, while also sharing real-time reactions with the genre-obsessed community.
"Scener is the perfect place for deep genre communities like the #SnyderCut fans to connect virtually and celebrate the work of creative geniuses like Zack Snyder," said Joe Braidwood, co-founder and chief operating officer at Scener. "Our partnership with HBO Max for Snyder's iconic film release signifies another major leap forward for co-watching, cementing this format far beyond the pandemic-era as a movement that's driving the future of streaming entertainment. We're honored to play our part in enabling this new form of community experience as studios, creators, and fans look to Scener as the destination to connect over the movies they love."
New and current HBO Max subscribers can join the public watch party by RSVPing at snydercut.scener.com prior to the event on March 18. The party will be open to users on both mobile and desktop devices, and users on Windows, Mac, or Chromebook devices will see the full synchronized movie playback experience alongside fan reactions, Snyder's introduction and more, leveraging Scener's free extension from the Chrome Web Store. Fans will also be able create their own private watch parties with friends using the customized "Zack Snyder's Justice League" experience on Scener.com starting March 18th.
Fans Joining the "Zack Snyder's Justice League" Watch Party Will Enjoy:

A Live Video Introduction by Zack Snyder: Fans can hear from the director himself as he introduces the film and welcomes attendees in a moderated discussion with fans and a list of VIP invited guests.
Synchronized Playback for a High-Quality Co-Watching Experience: Scener synchronizes the streaming movie with the live chat features to enable an even more immersive viewing experience for desktop users where fans can share real-time reactions.
A Virtual Destination to Build Community with Fans: Attendees can make connections and build community with other like-minded Scener users to come back and stream other DC and HBO Max content in the future.
To RSVP for the "Zack Snyder's Justice League" watch party event, head to snydercut.scener.com. Attendees must have an HBO Max subscription in order to join the event and can visit HBOMax.com to sign up. To learn more about Scener and to join more watch parties, visit http://www.scener.com.
###
About Scener
Scener® is the virtual movie theater where you can interact over video chat while watching your favorite programs, providing an interactive way to stay connected while enjoying the world's best video entertainment. The platform enables groups of viewers large and small to synchronize playback of HBO Max® alongside video, audio, and text chat in a virtual movie theater. Based in Seattle, WA, Scener launched in 2018 and was incubated by media streaming pioneer RealNetworks Inc. To schedule your own virtual theater in seconds, visit http://www.scener.com.
About HBO Max
HBO Max® is WarnerMedia's direct-to-consumer offering, with 10,000 hours of curated premium content. HBO Max offers best in class quality entertainment, featuring the greatest array of storytelling for all audiences with the iconic brands of HBO, Warner Bros., DC, Cartoon Network, Adult Swim, Turner Classic Movies and much more. Most HBO subscribers in the U.S. have access to HBO Max as part of their HBO subscription and can visit HBOMax.com for more details.
Press Inquiries:
Lindsey Henn
Scener Public Relations
press@scener.com
(626) 893-4228
Partnership Inquiries:
Joe Braidwood
Scener Co-founder & COO
hello@scener.com