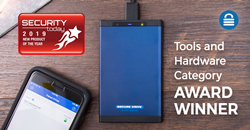 We are thrilled to receive this year's Security Today's New Product of the Year Award. It's great to be recognized for our efforts to be a truly innovative data security product in the growing cybersecurity field
LOS ANGELES (PRWEB) August 20, 2019
SECUREDATA is honored to announce that their SecureDrive BT won the "Security Today" 2019 New Product of the Year Award under the Tools and Hardware category. The "Security Today" magazine is a leading industry media brand that provides technology, education, and solutions for security professionals, and runs securitytoday.com, which is a preeminent editorial site for the security industry.
The New Product of the Year Award is in its 11th year and honors outstanding product development achievements of security equipment manufacturers whose products are considered to be particularly noteworthy in their ability to improve security. The SecureDrive BT was among 100 entries and independent juries judged the products before giving awards in 40 categories.
Ralph C. Jensen, editor in chief of "Security Today" magazine said, "I'm very pleased that many manufacturers take the time to share with us and our readers the products they have designed and brought to fruition. Our world needs the technology and benefits from those people who are ever thinking about new ways to secure the world. There has never been a time in the history of mankind when security efforts are more needed than they are today."
"We are thrilled to receive this year's Security Today's New Product of the Year Award. It's great to be recognized for our efforts to be a truly innovative data security product in the growing cybersecurity field," said Mike Vanoverbeke, Senior Product Specialist for SECUREDATA.
The SecureDrive BT is the world's first hardware-encrypted external portable storage solution with secure wireless authentication via mobile app/phone (Android/iOS). The device offers many unique and useful features for added usability and security, including two-factor authentication (2FA),and unlocking via FaceID/TouchID (iOS) and Facial Recognition/Fingerprint Detection (Android), step-away lock, and password recovery amongst others enhanced security features. It is also FIPS 140-2 Level 3 Validated and is OS/Host independent to work across all devices with a USB port. Additionally, the SecureDrive BT is remote management ready with features like geo- and time-fencing and remote password reset.
Winners of the New Product of the Year Award will be recognized at GSX in Chicago September 10-12. They will also be featured on the leading website, securitytoday.com, and featured in the November/December 2019 issue of "Security Today" magazine. The publication is distributed to over 59,000 monthly subscribers and at key industry trade events and thousands of security professionals visit their website each week.
The SecureDrive BT is assembled by SECUREDATA in the U.S.A. and uses patented DataLock® technology licensed from ClevX®, LLC.
About SECUREDATA
SECUREDATA, Inc. is a privately held company, headquartered in California, USA. SecureData offers a range of tailored high-level data protection capabilities through a set of services and products. These include hardware encrypted portable data storage devices, backup solutions, file repair software, data recovery, and digital forensics services to help clients achieve their security objectives. SecureData has a presence through its partners in North America, Europe, Middle East and Africa (EMEA), Asia and South America, and serves companies and organizations in regulated industries, such as government, financial services, military, law enforcement, legal, healthcare, and education.
For more information, please visit: http://www.securedata.com and http://www.securedrive.com
About ClevX:
ClevX is a Seattle based, information security technology company – Your Innovation Partner. It is focused on the Security/Mobility markets where ClevX pioneered its award-winning DATALOCK® KP/BT Secured USB drives (OS-agnostic, hardware encrypted, PIN- or Phone-activated, bootable) and easy to use portable software applications for secure drives for personal and business use. ClevX differentiates itself by creating solutions that are simple, clever, and elegant.
For more information, please visit: http://www.clevx.com