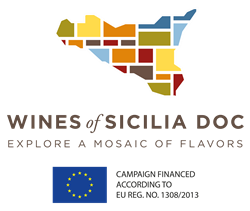 NEW YORK (PRWEB) November 23, 2022
The Sicilia DOC Consortium is thrilled to announce its first "Make Every Hour Golden, it's Sicilian Wine Time!" campaign, a retail and restaurant activation available during the holiday season 2022 all across the US.
In the past years, Sicilia DOC has been protagonist to what many described as a true "renaissance". With over 96 million bottles produced in 2021, the appellation is now focused on promoting the rising quality of its wines in addition to providing international consumers with tools and knowledge to better understand the unique value of Sicilian native grape varieties. "Make Every Hour Golden, it's Sicilian Wine Time!" was created to accomplish the Consortium's ultimate mission.
Counting on 150+ retail and restaurant partnerships, the campaign revolves around both educational and promotional initiatives.
Participating retailers and restaurants from the four corners of the US are promoting Sicilia DOC wines through digital and in-person experiences. The Consortium encourages retailers and restaurants to create promotions, tastings, seminars, discounts and any other promotional strategies using the exclusive branded POS material to inspire consumers.
Sicilia DOC additionally offers retailers the possibility to host in-store tastings and staff training. During the tasting sessions, restaurant and retailer staff and customers will explore the region's mosaic of geography and climate as well as navigating through Sicily's key native grape varieties, such as Grillo, Nero d'Avola, Lucido and many more.
The "Make Every Hour Golden, it's Sicilian Wine Time!" campaign is further magnified by media partnerships with well-esteemed publications, Sevenfifty and Wine Enthusiast, along with influencer partners based in participating local markets.
A dedicated page collecting all information about Sicilia DOC is available on Sevenfifty's newest platform Provi, where users will find Sicily's regional guide, an insightful article on "3 Reasons Why Buyers Should Pay Attention to Sicilia DOC", as well as a b2b e-commerce marketplace featuring Sicilia DOC SKUs only.
Moreover, Sicilia DOC and Wine Enthusiast are partnering in a consumer-focused influencer campaign which will be developed in Sicilia DOC's top three US markets: New York City, Los Angeles and Dallas. Wine Influencers will work on the creation of strategic content to target and engage with consumers, aiming at showcasing the great versatility and pairability of Sicilia DOC wines and to further highlight the wide range of wines the region has to offer.
For more information on the "Make Every Hour Golden, It's Sicilian Wine Time!" campaign please contact Megan de Angelo of Colangelo & Partners (http://www.colangelopr.com), the agency of record in the US for the Sicilia DOC Consortium.
To stay up-to-date with the upcoming events and promotions, visit Wines of Sicilia DOC website or follow Sicilia DOC on Facebook, Instagram and Twitter.
About Sicilia DOC:
Established in 2011, Sicilia DOC appellation represents a leading force of innovation in the region. Its efforts have been aimed at enhancing the region's millennial winemaking heritage and local grapes such as Nero d'Avola and Grillo, amongst others, through a sustainable approach promoted by the SOStain foundation which provides producers with education and tools to embrace organic practices. For further information, please visit Wines of Sicily.