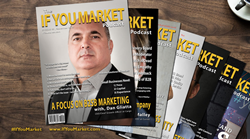 Insiders say the ability to appeal to the emotional side of the SBO will become more important, as so-called Millennialsthose born between the years 1980-2000are the fastest-growing segment of SBOs and may be more inclined to own a small business than members of older age groups.
TAMPA, Fla. (PRWEB) December 31, 2019
Small business owners overwhelmingly report that the businesses that market to them neither understand nor listen to them. This makes selling to this group problematic for large and medium sized businesses, who need to take the time to understand the mindsets of Small Business Owners (SBOs). On the 55th episode of the "If You Market" podcast, an authority in business-to-small business marketing explains how large business can improve their success rates.
"SBOs consistently express their dissatisfaction (and distrust) with brand marketers' abilities and attempts to sell and market to them," said Dan Gliatta, CEO of Cargo, a B2B marketing company that helps large brands market to small businesses. "On average, over 50 percent of SBOs feel big brands and marketers are ineffective in engaging and marketing to them. Which means either one in two brands are failing or 50 percent of every brand's marketing spend is wasted."
Cargo studies have shown that most SBOs fall into one of two groups; Crusaders or Artisans:

Crusaders are more entrepreneurial and business-oriented
Artisans typically have an art, skill or craft that they have turned into a business.
The two groups share an emotional attachment to their business that is particular to SBOs — and is the piece larger companies frequently neglect when marketing to them.
"To them, everything is personal, so marketers wanting to engage and motivate them need to get them to feel if they want to get them to act," Gliatta said.
Karla Jo Helms, CEO of JoTo PR, and co-host of the IYM podcast, agrees. "Emotion drives (small businesses) today. That's the biggest thing, especially in B2B. People don't realize that, they think buying decisions are rational."
Sky Cassidy, "If You Market" podcast Host and CEO of MountainTop Data, underscored the considerable difference there is between marketing to a large company and a small one.
"There's a vast difference in how you market to an enterprise company, marketing manager, and a business owner," Cassidy said. "The (first) one you can say, 'This is going to make your job more convenient, make you look good.' They're sold on it.
"The business owner needs to see profit, needs to know they're not wasting their money because they could give that money to you or they could take their kids to Disneyland. And that's what you're up against with the business owner versus the marketing manager."
Insiders say the ability to appeal to the emotional side of the SBO will become more important, as so-called Millennials – those born between the years 1980-2000 – are the fastest-growing segment of SBOs and may be more inclined to own a small business than members of older age groups. A study released in 2017 found, among other favorable statistics, that Millennials have more experience with small business and greater desire to start businesses than previous generations.(1)
Another study found that Millennials are starting businesses at an earlier age than did previous generations, they're launching more small businesses, and leading larger teams.(2)
"Millennials think, act and behave differently than most of their predecessors," said Gliatta. "They're driven by purpose and passion and cause just as much as they're driven by the bottom line, if not more. With this in mind, Cargo is kicking off the next decade with a proprietary, AI-driven study that will lend insight to better understand and solve the Millennial SBO riddle."
According to the United States Census Bureau, there were 83.1 million Millennials in the United States in 2015. By the end of 2019 they are expected to have overtaken "Boomers" – generally, those born between 1946 and 1964 – as the most populous age group in the United States.3
About the "If You Market" Podcast
Meet If You Market podcast host, Sky Cassidy—an accomplished B2B marketer. And his co-host, disruptive PR evangelist Karla Jo Helms. Together they talk with industry experts to analyze B2B marketing tactics in a cocktail hour atmosphere.
The podcast airs on iTunes, Stitcher, Google Play and TuneIn Radio.
Sky Cassidy is also the CEO of MountainTop Data. MountainTop Data, based in Los Angeles, CA, provides data and data services for B2B marketing. Karla Jo Helms is the CEO and Anti-PR Strategist of PR agency, JOTO PR DisruptorsTM, based in Tampa, FL. Visit them via http://ifyoumarkettheywillcome.com/category/if-you-market-podcast/?PRS
About Cargo
Cargo is a new-model marketing and advertising agency that specializes in helping big brands connect with Small Businesses, otherwise known as B2SB Marketing®. The agency was established in 2006 and has offices in Greenville, S.C., and Toronto, Ontario to service the North American market. Cargo's client brands include 3M, Daimler, Detroit Reman, Lenovo, Mercedes-Benz, Pitney Bowes, and Royal Bank of Canada. For more information visit http://www.thecargoagency.com.
1. "Millennials and small business go well together, study says," USA Today, May 31, 2017.
2. "Millennipreurs' Are Starting More Businesses, Targeting Higher Profits," Fortune.com, February 20, 2016
3. "The Big Number: Millennials to overtake boomers in 2019 as largest U.S. population group," The Washington Post, January 27, 2019