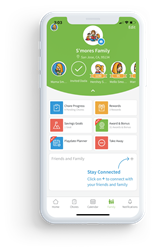 LOS ALTOS, Calif. (PRWEB) January 31, 2020
S'moresUp (smoresUp.com), a Smart Family Management platform that teaches kids critical life skills through chores and rewards, announced a game-changing partnership in 'smart parenting' with Home Connect, a dynamic digital ecosystem created to connect home appliances to the Internet of Things. With this collaboration, parents can now simply assign chores automatically with just their voice from their home appliances.
With the new Home Connect and S'moresUp integration, parents can easily program their dishwasher, coffeemaker, washer or dryer to automatically assign specific chores to their kids. The Home Connect ecosystem works with smart technology - like Google Assistant and S'moresUp - to make home management and parenting easier.
"Technology advances have changed the way companies operate and people across the globe communicate. It's time that parents benefit from emerging technology as well," said Priya Rajendran, CEO and co-founder of S'moresUp. "We're pleased to share that with this collaboration, technology is unlocking new ways to assist busy parents, while helping kids learn responsibility, self-reliance, and other critical life skills."
Together, the two companies are reimagining 'smart parenting,' a new connected, data-driven paradigm where families run on assisted technology for household optimization and child development, making parents' lives easier. The Internet of Things has been conceptual in the last decade, and now that it's becoming a reality, S'moresUp is working with smart device manufacturers to help parents manage their time smarter.
"We are proud to add S'moresUp to Home Connect's growing ecosystem, which offers the richest connected appliance experience available today," said Johannes Ochsner, head of connected products and digital services for Home Connect. "Partnering with innovative startups such as S'moresUp offers users a fun way to interact with their appliances while getting household tasks done."
Now boasting a 4.5-star rating on both Android and iOS and growing to 200,000 family members in just one year, the company also just launched a "Digital Health" category to make learning fun for kids while teaching them how to self-manage screen time. The family app helps kids learn critical life skills through assigned tasks and chores, does behavior analysis to provide parents with insights around their kid's learning, integrates with the family calendar, creates goal setting through rewards, helps kids form long term habits through advanced data analytics and allows the family to interact with each other from within a safe "walled off" family network.
About S'moresUp
S'moresUp is a family organizer that creates data-driven parents. It provides parents tools to help their kids learn critical life skills and healthy habits while managing chores, allowances, and schedules through a secured private family network, where a family's data is safe. The app, which helps raise independent, responsible, and financially savvy kids, was founded by technology veterans Priya Rajendran, a software engineer and busy mom who led the PayPal Wallet team, and Reeves Xavier, former tech lead at Paypal and Intuit. To find out more, please visit http://www.smoresup.com.
About Home Connect
Home Connect is an innovative solution dedicated to smart home appliances. With Home Connect, you can control a wide variety of home appliances from leading brands, such as Gaggenau, Thermador and Bosch in one convenient app. Home Connect is also an ever-expanding ecosystem of partner applications, devices and services. Using Home Connect, you can access and connect with a large number of service providers ranging from voice assistants and smart home automation systems to e-commerce platforms. Home Connect is available in 40 countries and is offered in the US and Canada through BSH Home Appliances Corporation. For more information about Home Connect, go to: http://www.home-connect.com/us/en