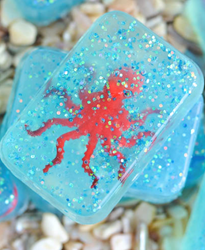 Everyone could get better at this and if there's one silver-lining at all to take away from this, it is that we are all more aware of how important it is to maintain proper hygiene and hand washing, and that we are stronger working together, hand-in-hand, in this great Human Race.
HOUSTON (PRWEB) March 18, 2020
Handmade soap company Soaprise!™ is hoping that its offer of a free bar of soap containing a hidden children's toy will inspire parents everywhere to make sure that their kids consistently wash their hands.
Company co-founder, CJ Doll noted that, "While many kids are not currently presenting symptoms from the Coronavirus, kids can still be carriers and pass it on to their parents, grandparents and other elderly individuals around them, which can be life-threatening in some instances."
CJ also noted that a study from the London School of Hygiene and Tropical Medicine found that kids were four times more likely to wash their hands when they had the option of using a variation "surprise soap", rather than when they had regular soap.
Additionally, research cited on the http://www.Soaprise.com website states that the World Health Organization has listed, "Wash Hands Often" as its number one prevention measure against the Coronavirus, and Dr. Oz stated on Fox and Friends that "washing your hands alone is probably a 50% reduction in virus transmission".
The company hypothesizes that having a surprise in the soap could be an innovative way to have a measurable impact on the growing COVID-19 pandemic and galvanize children everywhere to practice better safety and sanitization methods.
"By encouraging children to wash their hands, parents and their kids can save the lives of people they've never even met by decreasing the likelihood of passing on the virus," adds Stacey Doll, mother of 5 and company Co-Founder.
As a young company, Soaprise!™ is just asking for those receiving the soap to contribute only a small shipping and handling charge and also encourages parents to support the business by ordering a second bar of soap or more, since they will not be making a profit on the free bars.
Marketing Director and company CIO - Chief "Infoamation" Officer Trent Silver stated:
"We were partially inspired by the hidden toys in Cracker Jacks and the "Golden Ticket" from Willy Wonka's Chocolate Factory. And we saw an opportunity to bring those same emotions of joy and anticipation to a simple soap business in Soaprise!™ to see how we might be able to have even the slightest impact and potentially save even one life."
"We plan to 'Play it Forward' by leveraging this launch and the public's support to further innovate with more unique 'buried treasure prizes' that will excite and inspire the older kids, teens, and perhaps even monetary prizes for adults down the road to continue with safety sanitization practices," said Silver.
"We also wanted to create a viral campaign that would not only resonate with parents and children, but also young people who's brains are not fully-developed yet and thus feel 'invincible" and have not taken to the prescription of Social Isolation and who continue on in large public groups. Which is why I proposed an awareness raising hashtivism campaign called #SoapriseNotSocialize which you will see us develop over the coming weeks," added Silver.
Silver adds, "Studies have been done for many different social issues relating to health and hygiene and have found that incentives work successfully throughout history for hard to solve challenges."
Silver further noted, "We didn't invent the idea, we just realized we could repurpose an existing reward-based concept, time-tested by human nature. We thought what the world needed was the right message, at the right time, with the right product, in a delivery method that would resonate and be understood by all age groups, not just kids."
"Down the line, we plan to experiment with adding monetary incentives to promote hand-washing among adults. Some innovative products in our pipeline include bars of soap containing real pearls, high-value jewelry, Cryptocurrency tokens with a code and even actual cash prizes," said Silver.
"We also have a number of hashtivism campaigns lined up to spread the message, including a #JailBarsOfSoap donation campaign to send bars of soap to overpopulated, and undersupplied prisons and jails where sanitization and close proximity among inmates poses an extra risk to human life. As well as a #SudsForShelters campaign for the homeless who are at significant risk due to lack of proper sanitization, supplies, mental and physical illnesses and extremely close proximity to one another," added Silver.
"The framework...rather the 'Foamwork,' of our company is built around social responsibility and leveraging speed to market innovation and real-time marketing methods such as 'newsjacking' to create maximum social impact...
Which is why we plan to deliver as much free soap as we can keep up with and make to children's hospitals, as well as a plan to educate and inspire soap-making in hygienically-poor regions around the world. We'll be educating on personal hygiene and aiding in the creation of 'microenterprises' for economic empowerment. We want to inspire rural communities to further self-sufficiency, sanitization and to create 'Fortunes through the Foam,'" says Silver.
Company CIO Trent Silver further stated:
"Everyone could get better at this and if there's one silver-lining at all to take away from this, it is that we are all more aware of how important it is to maintain proper hygiene and hand washing, and that we are stronger working together, hand-in-hand, in this great Human Race."
"I hope through my work with this company during a time of crisis, and through all of our future work addressing the seemingly most impossible challenges known to man, to make even the smallest indent in the pages of history, and to leave an immortal handprint in the Sands of Time," concludes Silver.
For more information visit http://www.Soaprise.com. To schedule an interview please contact Press@Soaprise.com.